Joined

Jul 31, 2009
Messages

595
Likes

570
Friends, I am not sure where to post this so I'll post it here. I got to see Coach Fulmer up close Tuesday night here in Columbia, where we hosted the
MidState Classic girls' softball doubleheader
. The UT girls' softball team played MTSU at 6PM at our sports complex, which is a few miles outside of Columbia and hidden in farmland. Coach Fulmer had agreed to come to the tournament and throw out the first pitch of that game. At 5:30, he still wasn't there. He had kindly declined all offers of somebody coming to get him, even a police escort. No, he would drive himself.
So, we're kind of getting nervous. There are 3,000 fans there ready and waiting. At around 5:40, the organizer gets a call from another organizer...Fulmer had arrived and had just walked into the crowd. By himself. He had driven himself to Columbia and to the complex, and parked in the parking lot like all the rest of us. He made contact with the main organizer, met with the girls' softball team before the game, and threw out the first pitch. Special, VIP treatment was offered to Coach Fulmer in the days and hours leading up to this event but he declined everything.
Coach Fulmer then spent the next couple of hours, if not more, signing autographs, taking photos with fans, and generally just visiting with people while watching the game, although he didn't get to watch much of it with all the folks approaching him. He acted as if he was just another dad or granddad from, say, Winchester, just down the road from Columbia. He acted as if he was one of us, among family. He was signing autographs and taking photos with fans as he left the park.
During the game, there was a bad collision between a UT player and an MTSU player along the first-base line. Unfortunately, the UT player evidently broke her wrist. Coach Fulmer went over to the ambulance to check on the player before leaving the park.
I am almost 60 years old. I have bled orange since birth. As much as I have loved, admired and respected Coach Fulmer over the years, I was one of those who felt he needed to go as head coach of our football team in 2008. I felt the team had gotten fat and lazy and he had somehow misplaced his mojo.
All this to say: I will not soon forget how this man, now the Athletics Director at the University of Tennessee, carried himself among 3,000 fans on a warm spring Tuesday night outside a small Tennessee town at a sports complex in the country while watching the UT girls' softball team win another one.
Nor should you.
Edit: Just to clarify, I had nothing to do with organizing this event. I was just another fan. I wrote about what I saw with my own eyes and what I was told by friends who work at the park.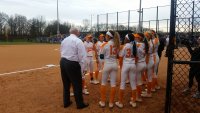 Classic's success boosts Columbia
Last edited: