108 days.......
On October 20, 1951, Hank Lauricella had 15 carries for
108 yrds,
including a 35 yrd TD in the 4th quarter, in the Vols 27-13 victory over Alabama in Birmingham. Lauricella also had 113 yrds passing and a td for good measure.
View attachment 205396
Fun fact: Hank Lauricella came in 2nd place for the 1951 Heisman.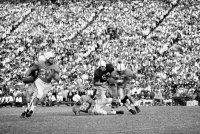 Last edited: