Jeremy Pruitt got a lot of on the job training 2018.
A quick look at last years schedule.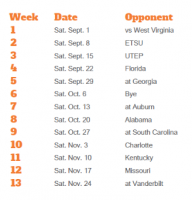 Pruitt's first game - one of those neutral site season openers with a big name opponent. West Virginia ended the regular season ranked 15th with an 8-3 record.
Two winnable cream puffs.
Then a brutal run Florida, @Georgia, (bye) @Auburn, Alabama and @South Carolina. 3/5 of those teams, Florida, Georgia and Alabama all ended in the top 10.
Charlotte was a cream puff, and helped to prepare for Kentucky.
Kentucky ended up 12th. My theory on the Kentucky win was this: While we were playing Charlotte, UGA rolled into Lexington that day. Winner take all for the east. Biggest home game for the Wildcats in decades. Not only did UGA win, but it was a grueling game for Kentucky, and a huge loss. When they rolled into Knoxville Nov.10, they were psychologically beaten and it showed.
Missouri and Vanderbilt killed us. Why? Well they both had great quarterbacks, both of which are graduated. This will be a factor in 2019.
We all know we had huge depth issues and poor play from the OL. (Funniest post of the off-season - most well wishers telling Drew Richmond good luck transferring to USC, however one of you knuckleheads said "I hope they have a good playbook for 1st and 15". That was well played!!)
So 2019 looks like this.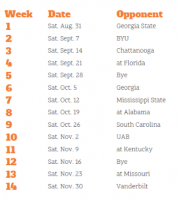 I DO like the neutral site out of conference tough opponent to start the season. We barely survived GT and got our butt handed to us by UWV. For 2019, it's a blessing to have a warm up game with Georgia State.
BYU - A worthy opponent. Should win, but you never know. This game should be a pretty good crystal ball for the rest of the season.
Chattanooga - Finally, another warm up game before Florida. Have you ever noticed that traditionally, Florida has this kind of schedule before we play them and it seems to help them. They DO start out with a neutral site big game (Miami), however a week before the REAL season starts. That game is on 8-24 and I can't remember why. I think that helps them - an early start. They have to go to Lexington the week before we head to the swamp, so a little tougher opponent on 9-14 than we have. Note: Florida had 5 underclassmen declare for NFL draft. That should help too.
Bye week before UGA.. That's good. (They also have a bye week as well, after playing Notre Dame) Pruitt had an extra week last year to prepare for Auburn, and I think it helped. Also, game in Knoxville.
Mississippi State - I see this one as hard because it's back to back with UGA, BUT.... it's also in Knoxville. (Has the home field had an advantage to us lately?? Only Kentucky last year)
At Alabama - Dang.. can't say much positive about this except it's only the second away game of the season. The travel schedule up to this point shouldn't have taken it's toll.
Back to Knoxville and then South Carolina comes to town.. Think we had a brutal schedule last year? Check out South Carolina's schedule... SECW rivals are Bama and Texas A&M. Non conference has Clemson and NC State. Road games: At MO, TAM, UT, UGA. Sometimes the schedule Gods aren't kind.
Then we get a bye before Missouri. See comment about bye before Auburn last year. By November, teams are pretty bruised up. Before they play us, MO goes to Kentucky, bye, then to UGA, and a home with Florida before we get them. Two tough games in a row for them prior to us. That is favorable. Plus Locke is gone. Yes, I know they scored a big name at QB, but did I say Locke is gone???
Vanderbilt.. Going out on a limb.. We beat them because ....well just because. Home game and that shifty little QB they had last year has graduated.
So there you have it. I see it as (finally) a schedule that isn't as crushing as some we have had in the past. Competition is somewhere in the range of 2-3 top 15 teams.
A reason for optimism? Comment away.
Last edited: