Joined

Aug 29, 2018
Messages

3,284
Likes

2,852
First, I'm a sucker when it comes to gimmicks from bourbon Distillers. I like to try them. So call me an idiot and get it over with.
Second, I know all about what is a bourbon and what isn't. Trust me JD is bourbon in every way but name. So we don't have to go there.
Third, sorry if their's a bourbon thread but I didn't see one.
Jack Daniels is releasing three iterations of it's Tasters' Selection limited to 24,000 bottles each. They will only be available at the JD distillery and at select Tennessee liquor stores. Friday afternoon I picked up a 375ml bottle of the High Angels's Share for 39 bucks plus tax....OUCH. I have attached an article so I won't go into much detail except about the nose and taste.
The Angel's Share is bottled at 107 proof which Is a bit higher than I like. I prefer bourbon at around 90 to 96 proof. After dinner I unscrewed the cap (yes, unscrewed). I poured about three fingers in a bourbon glass, swished it around real good and stuck my nose in deep but breathed in shallow and slow. I'm not one of those that smell everything from old saddle leather to discarded cigar butts in bourbon. But I did get strong vanilla, caramel and maybe some cinnamon. It smelled IMO unusually sweet. I do love the smell of bourbon. I breathed out and took in a deeper breath. I got about the same smell but a little burn told me it was definitely over 100 proof. I took a small sip and held it in the front of my mouth for about two seconds. I was absolutely right about the sweetness, it is very sweet and not nearly as smokey as Old No. 7 or Single Barrel. As I swallowed it the burn confirmed again the proof. The sweetness I tasted up front was reduced in the back of my throat and the a more traditional taste of bourbon lingered for a good while. I have a hard time describing bourbon in terms that the "experts"use so I stick to terms like good, fair or poor. I would describe this as very good. I generally sip bourbon very slowly. I take about an hour to go through three tall fingers. About half way through I added around a thimble full of spring water. This was the right thing to do. Viola, It opened up more flavors and the slight burn was almost gone. This made for a very pleasing bourbon experience. I finished, poured another finger, finished it and decided that YES, this is one I would recommend.
I will try the Hickory Smoked and Reunion Barrel when I can get my hands on a bottle. Due to the price I won't buy much but I will definitely put a bottle of each (if the other two are good as this one) up as a novelty for a special occasion. Maybe for my friends to drink at my wake.
Jackpot: Jack Daniel's Launches New Tennessee Tasters' Selection | The Manual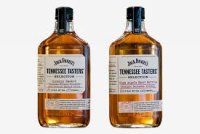 Last edited: