Joined

Mar 11, 2009
Messages

68,485
Likes

38,562
If you don't know me from the NBA forum, I like to tease numbers and I like to talk about players in terms of their pro potential, so I thought an ongoing Vols thread about this would be fun.
Through 10 games, we are absolutely killing it shooting the ball. 3 of the 7 players getting significant minutes are lights out, and 5 are significantly above average: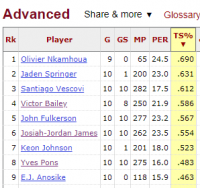 I'm really afraid that it will have been a mistake for Pons to come back. His stats are down across the board and next year is a stronger draft. I don't understand why he stayed and I don't understand why more teams weren't interested in him based on the year he had, his physical attributes, and the quality of the other players in the draft.
What we're seeing from JJJ, Springer, and Keon Johnson is good, but I'm not sure it's enough for them to want to make the leap in a strong draft. We could be getting 2-3 back. Probably just wishful thinking but the 5th pick makes twice as much as the 15th pick and almost 3x as much as the 25th pick. KJ and Springer seem like they have the potential to attain top 5 pick status in the 2022 draft (KJ still could in this draft if he closes strong...or they could fall back if it's not pretty). This article has them at 9th and 21st right now, with no JJJ or Pons in the 1st round.
2021 NBA Mock Draft 1.0: New Year Edition
Last edited: