Joined

Feb 22, 2016
Messages

12,392
Likes

18,777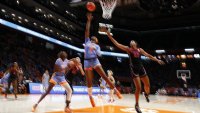 V
Rickea Jackson
had her season-high 28 points and pulled down a game-high nine rebounds. Jackson finished 10 of 13 from the field and eight of nine from the free-throw line, tallying 15 of her points in the second half on 5-of-5 shooting from the field and 5-of-6 accuracy at the charity stripe.
Florida had four players in double figures, led by 21 points from Alberte Rimdal. KK Deans added 16, while Nina Rickards and Ra Shaya Kyle tossed in 11 each.
Despite missing all but five minutes of the first half due to foul trouble, Horston finished the contest as Tennessee's second-highest scorer with 15 points. She has landed in double figures in every contest she's played this season with the exception of the UMass game on Nov. 10 when she exited in the first half due to injury.
The Lady Vols out-rebounded the Gators 45-27, resulting in 16 second-chance points. Tennessee has now won the rebounding battle in 11 of 15 games this season, including nine of the past 10.
Coach Jumper's prediction 90-71
@Coach Jumper
90-71
@VolBalls33
80-69
@Vols2015
75-60
@Volfan2012
83-62
@37620VOL
78-65
HHS 81-63
@Ladyvol777
76-66
@dillyo51
74-67
@glv98
80-62
@chuckiepoo
77-62
@J-Dog 1313
82-62
@Orange Maniac
74-62
@dillyo51
74-67
@Jax_Vol
77-69
@Amb3096
77-68
@BruisedOrange
63-57
@87&91ALUM
85-75
@xtpsrh08123
79-62
Final score: 74-56
Last edited: