Joined

Feb 22, 2016
Messages

13,105
Likes

20,217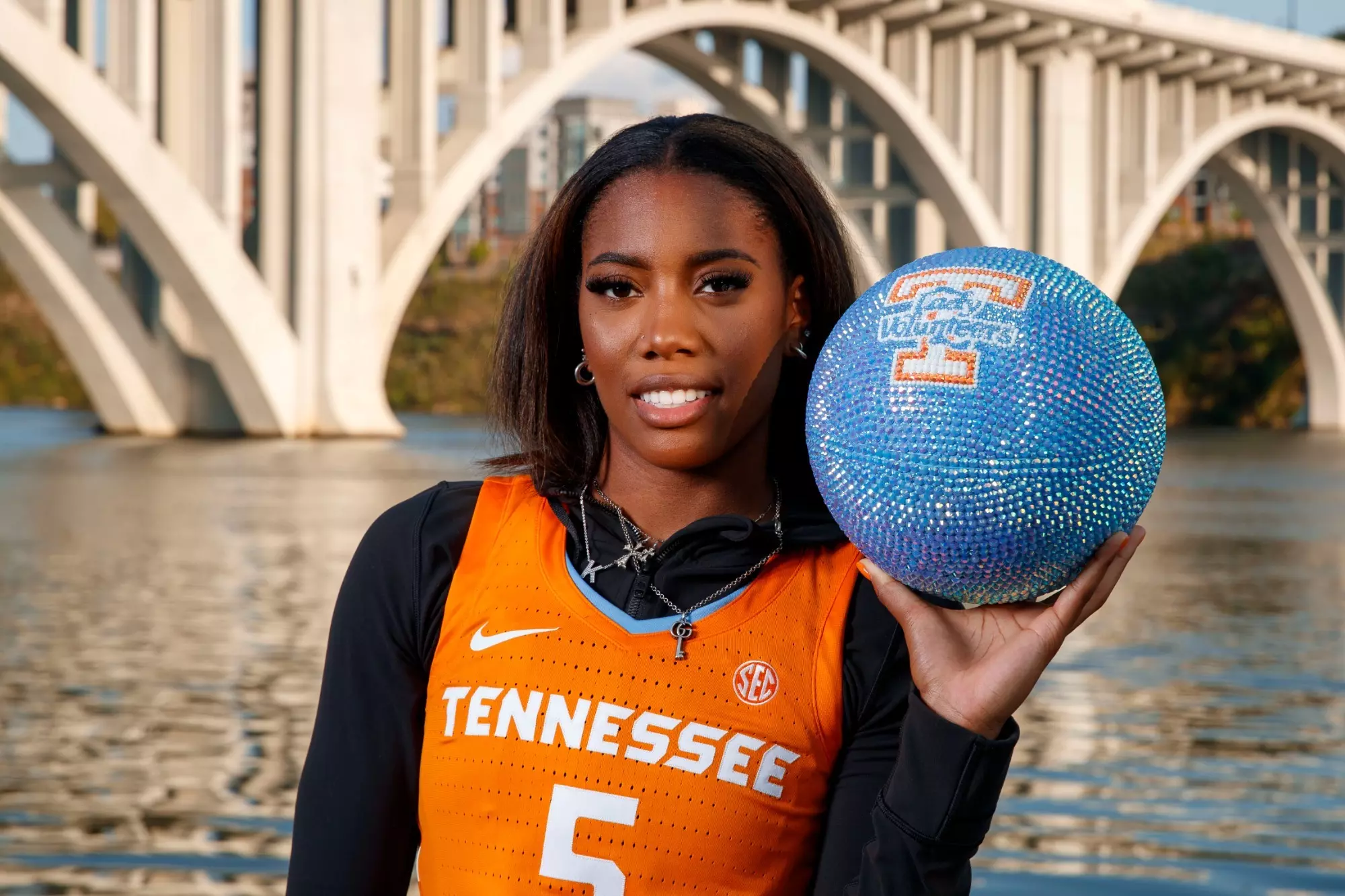 Pasetde from :
HOOPS CENTRAL: #11/12 Lady Vols vs. Carson-Newman (Exhibition)​
KNOXVILLE, Tenn.
-- No. 11/12 Tennessee hits the court for its first game of the 2023-24 campaign on Monday night, facing Carson-Newman in an exhibition contest.
The teams will meet at 6:30 p.m. ET in Thompson-Boling Arena at Food City Center.
The programs will compete for the second straight season and for the 18th occasion in an exhibition tilt. The Lady Vols are 17-0 in those match-ups after winning 108-63 in last season's tussle, also on Oct. 30.
UT stands 14-2 all-time against the Lady Eagles in regular season games, with the Big Orange winning the past 12 such battles and C-N last registering a victory in the series in 1925.
MORE INFO​
GAMEDAY TIMES & BROADCAST INFO​
CARSON-NEWMAN​
Roster
Schedule
Game Notes
THE LATEST FROM THE LADY VOLS​
SEC Coaches Pick Lady Vols Third
Key Named To Lisa Leslie Award Watch List
Lady Vol Media Day Coverage
Jackson Named To Cheryl Miller Award Watch List
Lady Vols Open At #11 in AP Poll, #12 In USA TODAY Sports/WBCA Coaches Poll
UT 51-4 ALL-TIME IN EXHIBITION GAMES
UT is 51-4 all-time in preseason exhibition games, with the only losses coming to the Soviet National Team (1979), Athletes in Action (1992) and the USA National Team (1995, 2007).
Tennessee is 11-0 in preseason exhibition games in the post-Pat Summitt era, defeating Carson-Newman eight times (2012, 2013, 2014, 2015, 2016, 2017, 2018, 2019, 2022) and both Georgia College (2021) and Coker (2012) on one occasion each.
Kellie Harper is 3-0 at Rocky Top with wins in 2019, 2021 and 2022. No exhibition contest was held in 2020 due to the COVID-19 pandemic.
BROADCAST INFORMATION
Zack Nelson (play-by-play) and Caylan Arnold (analyst) will have the call for the SECN+ broadcast.
All of the games included in the ESPN package (ESPN, ESPN2, ESPNU) will be available through WatchESPN, accessible online at WatchESPN.com, on smartphones and tablets via the WatchESPN app, and streamed on televisions through Amazon Fire TV, Apple TV, Chromecast, Roku, Xbox 360 or Xbox One to fans who receive their video subscription from an affiliated provider.
The contest also can be heard on Lady Vol Network stations and by audio stream, with Brian Rice providing play-by-play.
A link to the live audio stream can be found on the Hoops Central page or the schedule on UTSports.com.
For a list of Lady Vol Network affiliates, please click on the Fans tab at the top of UTSports.com, select Vol Network and then click on the Vol Network Affiliates tab.
Air-time generally occurs 30 minutes prior to tip-off.
GAME PROMOTIONS
There are no special promotions for this game.
Tickets are available at AllVols.com.
PARKING, TRAFFIC FLOW, ENTRY ALERTS
Starting with the Lady Vols' exhibition vs. Carson-Newman, fans coming to campus looking to purchase parking will do so on site with a credit card for all events, including men's and women's hoops.
The designated rideshare drop-off/pick-up area will be on Todd Helton Drive west of Food City Center.
Campus parking is limited for large Food City Center events, but there is a free shuttle service from the Ag Campus for all fans, dropping off and picking up immediately adjacent to Food City Center. ADA shuttles and entry will operate the same as previous years.
Due to on-going construction and upgrades to Neyland Stadium, fans should be advised of changes coming to normal traffic patterns on Phillip Fulmer Way and Peyton Manning Pass during the 2023-24 basketball seasons. Please prepare in advance and stay tuned for more information.
Phillip Fulmer Way from G-10 garage to Neyland Stadium Gate 21 vicinity will be closed (tentatively set for Dec. 4, 2023).
Vehicular entry via the area northeast of the Food City Center will at times be inaccessible, and avoiding that vicinity is strongly recommended.
All tickets and Tennessee Fund parking passes remain digital.
Just like last season, fans will see walk-through metal detectors outside of all Food City Center entrances.
PRESEASON TALK
Tennessee opens the 2023-24 campaign ranked No. 11 in the Associated Press Poll and No. 12 in the USA TODAY Sports/WBCA Coaches Poll. UT wound up ranked 24th and 20th in the final 2022-23 polls by those entities.
The Lady Vols, who have finished third in the last four final SEC standings, are picked third behind LSU and South Carolina in the 2023-24 Coaches and Media Preseason Polls.
UT's Rickea Jackson was voted to both the Coaches and Media Preseason All-SEC First Teams. Wake Forest transfer Jewel Spear was picked to the second team by the coaches and media, while Tamari Key got a second-team nod from the coaches.
Rickea Jackson, a top-five finalist a year ago (and top 10 in 2020-21), was again named to the Cheryl Miller Award Preseason Watch List, while Tamari Key, a top-10 finisher in 2021-22, was again named to the Lisa Leslie Award Preseason Watch List. Jackson also earned Associated Press Preseason All-America Honorable Mention acclaim.
HEADING INTO 2023-24 WITH MOMENTUM
UT returns eight veterans from a squad that navigated growing pains and a brutal schedule to finish 25-12 overall (13-3 SEC, 3rd/NCAA Sweet 16) in 2022-23.
The Lady Vols are one of only seven programs advancing to the NCAA Sweet 16 in each of the past two seasons.
Tennessee is the only school besides South Carolina to card top-three SEC finishes in each of the past four years.
Kellie Harper guided the Big Orange past LSU and into the 2023 SEC Tournament title game, marking the program's first appearance since 2015.
Top scorer Rickea Jackson (2023 Cheryl Miller Award Finalist) and UT's all-time blocks queen Tamari Key (2022 Lisa Leslie Award Finalist), both All-SEC players, return.
UT's transfer class is ranked No. 6 by 247Sports, via a No. 7 rating for Jewel Spear and a No. 19 spot for Destinee Wells.
ESPN has Spear and Wells slotted at No. 4 & No. 15, respectively, in its portal rankings, while The Athletic has them at No. 8 and No. 13.
SIX RETURN WITH STARTING EXPERIENCE
Tennessee welcomes back a veteran nucleus, with upperclassmen Tess Darby (35), Karoline Striplin (28), Rickea Jackson (24), Sara Puckett (15), Jasmine Powell (11) and Tamari Key (9) combining for 122 starts last season and amassing a total of 466 during their careers.
Key departed after nine games in 2022-23 due to blood clots in her lungs, but she returned to limited practice in June 2023 ahead of UT's European Tour. She practiced but did not play in two games vs. all-star teams.
Averaging 8.4 ppg. and 4.2 rpg., Key was UT's third-leading scorer and fourth-leading rebounder despite her condition last season.
Darby (7.4), Jillian Hollingshead (6.2 ppg., 36 games but zero starts) and the trio of Powell, Striplin and Puckett were next, all at 4.7 ppg. Powell distributed 3.1 apg.
DISPLAYING PORTAL POWER
Kellie Harper and her staff have recruited the transfer portal very successfully, and spring 2023 was no exception.
The Lady Vols added seniors Jewel Spear (Wake Forest) and Destinee Wells (Belmont), who each have a COVID year option they could use for 2024-25.
UT also welcomed sophomores Avery Strickland (Pitt) and Talaysia Cooper (South Carolina).
Spear (32), Wells (35) and Strickland (11), who are eligible to play this season, combined for 78 starts last season and bring 189 total career starting nods to UT.
Cooper, who made her transfer destination decision after the NCAA portal closed, is able to practice this season but must sit out the season due to that timing. Cooper played in 24 games last season for the Gamecocks.
Last year's transfer portal class including Rickea Jackson (Mississippi State), Jasmine Powell (Minnesota) and Jillian Hollingshead (Georgia). All three made immediate impacts a year ago, and Jackson was the SEC's third-leading scorer at 19.2 ppg.
FIVE ALL-CONFERENCE HONOREES
Tennessee has five players on its roster who have earned all-conference honors here or at their previous schools.
Forward Rickea Jackson is a three-time WBCA All-America Honorable Mention choice, two-time All-SEC & SEC All-Tournament honoree and 2023 Cheryl Miller Award finalist.
Center Tamari Key is a 2022 Lisa Leslie Award & Naismith Defensive Player of the Year finalist, All-SEC Second Team member & two-time SEC All-Defensive Team choice.
Guard Jewel Spear was a two-time All-ACC and ACC All-Tournament honoree during three seasons at Wake Forest.
Point guard Destinee Wells was a three-time first-team all-league pick (twice OVC, then MVC in 2022-23) at Belmont.
Guard Jasmine Powell was Coaches All-Big Ten Second Team at Minnesota in 2020-21.
ANOTHER CHALLENGING SCHEDULE
Tennessee played the most difficult itinerary in the country last season, per the final NCAA Toughest Schedule Report.
It looks as if the Lady Vols are leaning that way once again, with nine opponents ranked in the Associated Press and/or USA TODAY Sports/WBCA Coaches Preseason Polls.
The Lady Vols' slate includes No. 1/1 LSU, No. 6/4 South Carolina, No. 7/6 Ohio State, No. 9/9 Indiana, No. 10/10 Notre Dame, No. 12/16 Ole Miss, No. 18/22 Florida State, No. NR/23 Oklahoma and No. 25/RV Mississippi State.
UT is one of 11 athletics departments with its women's and men's basketball programs ranked in at least one of the preseason polls, with the Lady Vols standing at No. 11/12 and the Vols at No. 9/10.
Those schools are UConn, UCLA, Tennessee, Texas, North Carolina, Baylor, Duke, USC, Creighton, Illinois and Miami.
A LOOK AT CARSON-NEWMAN
Carson-Newman, located in Jefferson City, Tenn., plays in the NCAA Div. II South Atlantic Conference.
The Lady Eagles finished the 2022-23 season with a 17-12 overall record and 12-6 record in league play.
C-N returns leading scorers in 5-5 graduate guard Braelyn Wykle and 5-8 junior guard Campbell Penland, who produced 20.8 and 12.5 ppg., respectively, last season.
Keeleigh Rogers, a 5-10 sophomore (6.3), and Penland (6.1) return as the team's top rebounders.
Wykle (75) and Penland (57) combined for 132 of the team's 200 three-pointers in 2022-23.
Also back are redshirt senior forward Lindsey Taylor, who averaged 10.0 ppg. in four contests before a season-ending injury, and 5-10 senior forward Skylar Boshears, who put up 8.8 ppg. in 29 starts.
ABOUT THE C-N HEAD COACH
The Lady Eagles are coached by Mike Mincey, who has a 240-109 record entering his 13th year at the school.
C-N has reached the NCAA Division II Tournament six times during his tenure, most recently in 2021-22.
Mincey has guided the Lady Eagles to five 20+ win seasons, including a 32-3 result in 2017-18 that ended with a trip to the NCAA Division II Elite Eight.
THE LAST TIME WE MET THE LADY EAGLES
Tennessee rolled to a 108-63 exhibition win against Carson-Newman in Knoxville on Oct. 30, 2022.
Jordan Horston paced the Lady Vols with 17 points on eight-of-13 shooting, while Sara Puckett chipped in 15 and Rickea Jackson added 14 in her Lady Vol debut.
In her first game as a Lady Vol, Jasmine Franklin pulled down 10 rebounds to set the tone for a 48-29 advantage on the glass for the Big Orange.
UT fired in 14 three-pointers on 20 attempts and limited the typically arc-hunting Lady Eagles to seven treys.
WHAT'S NEXT?
Tennessee returns to Food City Center at 6 p.m. on Sunday, Nov. 5, as the USA Women's National Team comes to Knoxville for a special exhibition game pitting the Lady Vols vs. players competing for spots on the U.S. Olympic Team for the 2024 Games in Paris.
Lady Vol fans should be aware that the USA Women's National Team contest is not part of the season ticket or parking package. Therefore, single-game tickets must be purchased for that match-up.
Free parking in all campus lots will be available for that game, as will free shuttle service from the Ag Campus. Fans will be dropped off and picked up immediately adjacent to Food City Center. ADA shuttles and entry will operate the same as previous years.
Please purchase tickets at AllVols.com or by calling the Tennessee Athletics Ticket Office at 1-800-332-VOLS or 865-656-1200.