Joined

Feb 22, 2016
Messages

13,105
Likes

20,217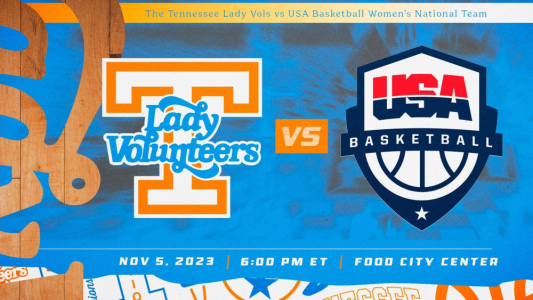 HOOPS CENTRAL: #11/12 LADY VOLS VS. USA WOMEN'S NATIONAL TEAM (EXHIBITION)
Women's Basketball Nov 3, 2023
Coach Jumper's predictions:


Score: USA 85 Lady Vols 70

Starters:
PG Destinee Wells (9 minutes) sub= (Kaiya Wynn)
SG Sara Puckett (3 minutes)

sub=

(Jasmine Spear)
SF Rickea Jackson (8 minutes)

sub=

(Jasmine Powell)
PF Jillian Hollingshead (6 minutes)

sub=

Tess Darby)
C Tamari Key (3 minutes)

sub=

(Karoline Striplin/Jillian back in))
As a reminder to Lady Vol fans, this game is not part of the season ticket package, so tickets must be purchased separately. If you have not already done so, go to
AllVols.com
to reserve your seats for this special event.
Free parking in all campus lots will be available for that game,
as will free shuttle service from the Ag Campus. Fans will be dropped off and picked up immediately adjacent to Food City Center. ADA shuttles and entry will operate the same as previous years.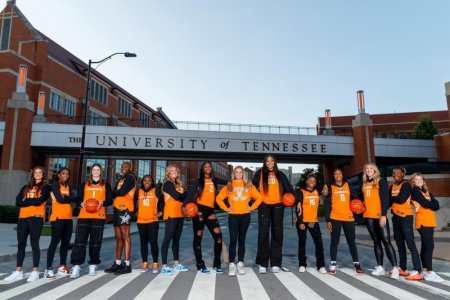 This will mark the fourth time the Lady Vols have welcomed the USA Women's National Team to Rocky Top for an exhibition, holding a 1-2 all-time mark against that program. On all three previous occasions, the UT squads made their way to NCAA Final Fours at the end of those seasons, with two of them winning national championships (1996, 2008). Meanwhile, the USA teams went on to win gold in the Olympic Games of 1996, 2000 and 2008.
During her playing days, Harper (known then as Kellie Jolly) was a freshman on the 1995-96 Big Orange squad that welcomed former Lady Vols Nikki McCray and Carla McGhee and friends back to Rocky Top on Nov. 22, 1995. USA would win the affair, 82-58. The late McCray-Penson would sing the national anthem before the game and say 'yes' to Thomas Penson's surprise marriage proposal on the court immediately following the contest.
On Nov. 7, 1999, Tennessee pulled off an upset, edging the USA squad, 65-64, in Knoxville. The national team returned on Nov. 4, 2007, and the Lady Vols kept the deficit close before falling, 83-72.
++++++++++++
Sixteen players will participate next month.Five-time Olympic champion Diana Taurasi headlines the group and is one of seven players whowill appear in both exhibition games. Kahleah Copper, Allisha Gray, Brittney Griner, RhyneHoward, Sabrina Ionescu and Azurá Stevens will also be on both rosters. In total, seven Olympians will participate between the two games and training camp includingAriel Atkins (2021), Gray (2021, 3x3), Griner (2021, 2016), Angel McCoughtry (2016, 2012),Kelsey Plum (2021, 3x3), Taurasi (2021, 2016, 2012, 2008, 2004) and Jackie Young (2021, 3x3). Additionally, Atkins, Copper, Ionescu, Betnijah Laney and Plum were members of the 2022 USAWomen's World Cup Team that won the gold medal in Sydney last fall.The list of participating athletes is rounded out by Aliyah Boston, Dearica Hamby, NatashaHoward and Arike Ogunbowale, all of whom have previous USA Basketball experience.
Full rosters are listed below.
2021-24 USA Basketball Women's National Team head coach Cheryl Reeve (Minnesota Lynx)will coach the USA in both games and lead training camp. She will be assisted by Mike Thibault(Washington Mystics) and Curt Miller (Los Angeles Sparks).Tanisha Wright (Atlanta Dream), who led the Dream to their first playoff appearance in fiveyears this season, and Stephanie White (Connecticut Sun), the 2023 WNBA Coach of the Year,will serve as court coaches. Wright will coach in Knoxville, Tennessee, while White will be inAtlanta and Durham, North Carolina.
The Nov. 5 game versus Tennessee will be televised on SEC Network at 6 p.m. ET. The USA'smatchup with Duke on Nov. 12 will stream live on ACC Network Extra at Noon ET, with a tapedelayed presentation on ACC Network at 8 p.m. ET. All games are available on the ESPN App.
The Lady Vols have hosted USA Basketball three times, most recently as part of the 2007College Tour that saw USA edge Tennessee 83-72 in Knoxville. The matchup between USA andDuke will be the second overall and first since 1999, when USA Basketball defeated the BlueDevils 71-45 in Durham.
Roster# NAME POS HT WGT AGE TEAM COLLEGE HOMETOWN7
Ariel Atkins G 5-10 167 27 Washington Mystics Texas Duncanville, TX30
Aliyah Boston F/C 6-5 220 21 Indiana Fever South Carolina St. Thomas, USVI11
Kahleah Copper F/G 6-1 165 29 Chicago Sky Rutgers Philadelphia, PA35
Allisha Gray G 6-0 167 28 Atlanta Dream South Carolina Sandersville, GA15
Brittney Griner C 6-9 205 33 Phoenix Mercury Baylor Houston, TX51
Rhyne Howard G 6-2 175 23 Atlanta Dream Kentucky Cleveland, TN6
Sabrina Ionescu G 5-11 165 25 New York Liberty Oregon Walnut Creek, CA14
Betnijah Laney G/F 6-0 166 30 New York Liberty Rutgers Clayton, DE37
Azurá Stevens C 6-6 180 27 Los Angeles Sparks Connecticut Raleigh, N.C.12
Diana Taurasi G 6-0 163 41 Phoenix Mercury Connecticut Chino, CA40
Jackie Young G 6-0 165 26 Las Vegas Aces Notre Dame Princeton,
Last edited: