Joined

Feb 22, 2016
Messages

11,996
Likes

18,009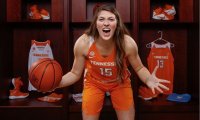 v
College Station, TX
Jan 12 (Thu)
9:00 P.M. ET
SECN-tv
SEC Network
Lady Vol Network
TAMU 5-9 overall 0-4 Conference
Lost 8 of last 9 games
Lost last game to Ole Miss 57-38
Last game recap:
Playing with just seven players available for the fourth time this season, the Aggies once again got the job done on the defensive end but were unable to convert on the offensive opportunities. The Maroon & White held Ole Miss 16 points below its season scoring average. For the 2022-23 campaign, Texas A&M has held every opponent under their average scoring output. The Aggies limited the Rebels to 35.1% (20-of-57) shooting from the field, their second-lowest percentage of the season.
****
The Aggies are in last place in the SEC
Not a whole lot I can add to this, except Vanderbilt is 0-4 in the SEC as well and look at the game they gave us.
That said, we cannot overlook them Thursday,,,in a season like they're having a win (or even a close loss) against a team like the Lady Vols, would be among their season highlights...
That said, I don't think we will blow them completely out of the water bc we will most probably play with a deep bench for a good portion of the game
Predictions
Lady Vols 99, TAMU 55
Sara "Buckets" will reemerge
we mat break the century mark tonight
@Coach Jumper 99-55
@volfan2012 80-52
@37620VOL 78-58
@Orange Maniac 72-55
@Vols2015 87-60
@travis929 70-62
@glv98 75-54
@Ladyvol777 79-49
@J-Dog 1313 87-46
@Rooster1 76-45
@VolBalls33 77-53
@chuckiepoo 75-58
Last edited: