Joined

Feb 22, 2016
Messages

7,349
Likes

8,135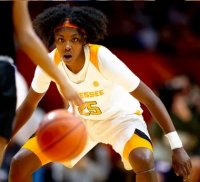 KNOXVILLE, Tenn.
-- The Lady Vols (4-0), who made their 2019 debut at No. 23 (tied with Gonzaga) in the AP poll on Monday and are receiving votes in the USA Today Coaches Poll, welcome Stetson (2-2) to Thompson-Boling Arena on Tuesday night for a 7 p.m. ET match-up.
This marks the 500th Lady Vol game played at T-BA since the venue came online during the 1987-88 season. UT has a 454-45 (.910) record there. Tennessee is playing its second of six straight games on Rocky Top after opening with two of the season's first three games on the road. After facing Stetson, the Lady Vols welcome Arkansas-Pine Bluff (Nov. 26), Air Force (Dec. 1), Texas (Dec. 8) and Colorado State (Dec. 11) to The Summitt. The UAPB and Air Force games are part of UT's Salute to Service Week, while the Texas match-up is part of the Big 12/SEC Challenge.
Tennessee enters on the heels of a 73-43 home triumph over in-state foe Tennessee State last Thursday evening. The Hatters, meanwhile, come off a three-game swing through the Bluegrass State before heading south to Tennessee.
Stetson opened the trip in Lexington, falling to No. 13 Kentucky, 67-48, last Wednesday. SU played in the Morehead State Eagle Invitational over the weekend, defeating Morehead State, 58-55, on Friday and falling to St. Francis (Pa.), 78-73, on Saturday.
VolNation:
It's time!
It's time to start beating teams with a little less mercy
If I was scouting our team, I'd see,,,
The good
The girls are starting to flow in movement and ball-movement on offense, not just in set plays, but in FB's and non-set plays. Much less stagnation.
Individual players are starting to make a name for themselves, while playing team ball
KK showed back up this last game. Harris is still surprisingly better.
The bad
"Mesh time" ,, Players don't get to play some longer spans together...some of their turnovers are from miscommunications in the passing sequence. (The passer is expecting their target to cut to the hoop and the target player starts moving lateral). This communication will solve itself with minutes together to learn tendencies and idiosyncrasies,,,(Maybe "sub by combinations" in the latter half of a runaway game instead of en masse).
Predictability: The second group off the bench is more one-dimensional,,, it will be will be Rae and 4 more. Teams will start seeing this and go at Rae because she is the obvious 6th man being groomed. Got to mix it up on both the grouping and the subbing-predictability for both time and personnel
Not seen a press yet
This group is still looking for a marksman shooter in this group. Ren and Jordan can go off, but I am talking about a 3-4 trey maker each game.
Alright Lady Vols,
Times to take the hat off of the Hatters
Lady Vols 92 - Stetson 41