Joined

Feb 22, 2016
Messages

7,576
Likes

8,419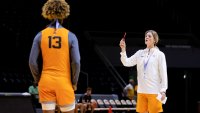 Sunday @ 1:02 p.m. ET @ Thompson-Boling Arena
KNOXVILLE, Tenn.
-- No. 23/24 Tennessee (12-3, 2-1 SEC) is back home on Sunday to play host to Georgia (10-6, 1-2 SEC) in a 1:02 p.m. ET matinee at Thompson-Boling Arena. Georgia opened SEC play with a 59-51 win at Ole Miss before dropping two in a row at home, including a 73-66 loss to No. 14 Mississippi State on Jan. 5 and a 63-55 setback vs. Vanderbilt on Thursday night.
RECAPPING OUR LAST GAME
Junior Rennia Davis led the Lady Vols (12-3, 2-1 SEC) with 17 points, seven rebounds and five assists. Freshman Jordan Horston narrowly missed a double-double, finishing with 11 points, nine rebounds and seven assists. Freshman Jessie Rennie also was in double figures with 11 points, shooting a perfect 3-of-3 from behind the arc and 2-of-2 from the free-throw line.
Tennessee shot a season-high 62.5 percent from the floor in the first half and every active member of the UT roster scored at least two points by halftime.
Rennie Finding Her Groove: Over the first eight games, freshman Jessie Rennie hit just 3-of-15 of her 3-point attempts, but over the last seven games she's managed a sizzling .632 from behind the arc, going 12-of-19. She's 15-of-34 on the season for a team-high 3-point average of .441.
Cleaning The Glass: UT out-rebounded the Rebels, 56-23. Tennessee has now won the battle of the boards against 13 opponents and boasts a rebounding margin of +16.9.
Fast Start: Tennessee held Ole Miss to just six first quarter points, the fewest UT has allowed in an opening period this season. UT's 19-point first quarter lead tied for the largest opening period advantage this season with the 19-point lead they held against Arkansas-Pine Bluff on Nov. 26.
Lockdown Defense: Tennessee held Ole Miss to just 28 points on the night, tying for the third-lowest point total by an opponent in Lady Vol history and the fewest ever by an SEC foe. The 14 points Ole Miss scored in the second half ties for the sixth-fewest all-time, and the two points UT allowed in the fourth quarter ties for second fewest points scored in a quarter by an opponent.
Improved At The Line: Tennessee is hitting 63.6 percent from the free-throw line for the season, but it has improved its shooting over the past two games. UT was 12 of 13 vs. Ole Miss and now is 29 of 34 over the past two contests for 85.3 percent.
The Lady Vols average 51.1 rebounds per game, which is No. 2 nationally. That rate stands above the school record threshold, a 46.9 average in 1992-93.
The Lady Vols are shooting 48.4 percent from the field and scoring 79.0 per game in SEC play. They shot 44.3 percent and tallied 74.5 ppg. vs. non-conference foes.
UT ranks No. 1 in the SEC in field goal percentage defense (33.7) and No. 2 in scoring defense (58.0 ppg.) in league games.
Freshman Jordan Horston and sophomore Jazmine Massengill are racking up the assist numbers. Horston is tied for the SEC lead at 4.9 apg., while Massengill is fourth at 4.6. Massengill is first in assist-to-turnover ratio (3.0 to 1).
Jaiden McCoy (8) and Emily Saunders (8) combined for 16 points on 8-of-10 shooting off the bench vs. Ole Miss.
Freshman Tamari Key had a career-best six blocks vs. Ole Miss, tying for the third-best ever by a Lady Vol freshman. She now has 37 for the season and pushed UT to 103 for the year. That total in 15 games already has surpassed last year's 95 blocks.
Ole Miss' 28 points Thursday night vs. UT were the third-fewest ever by a Lady Vol opponent and the fewest ever scored by a league foe.
Tennessee has recorded 15 or more assists in every game but one this season (Stanford, 7) and has tallied 20 or more on five occasions.
Brown leads UT with five charges taken.
ABOUT GEORGIA
Georgia was picked 10th by the coaches and media in the SEC preseason polls.
The Lady Bulldogs returned four starters and nine letterwinners from an 18-12/9-7 squad in 2019-20.
Guard Gabby Connally leads UGA at 12.8 ppg., while center Jenna Staiti tosses in 10.1 ppg.
The Georgia Lady Bulldogs fell to Vanderbilt, 63-55, Thursday night at Stegeman Coliseum.
UGA led 15-12 after the first quarter but was outscored 37-22 over the next two frames. The Lady Bulldogs took the fourth period, 18-14, but it wasn't enough to overtake VU.
Redshirt junior Jenna Staiti led Georgia in both scoring and rebounding, recording her fourth career double-double and third of the season, with a season-high 18 points and 11 rebounds. Juniors Maya Caldwell and Que Morrison registered 12 and 11 points, respectively.
Koi Love fired in 22 points to lead Vandy.
The Commodores connected on 42.3 percent of their shots from the field while holding the Lady Bulldogs to 33.3 percent shooting.
GA Last 3 game recaps:
Ga v Vandy –
The University of Georgia Lady Bulldogs fell to the Vanderbilt Commodores, 63-55, Thursday night at Stegeman Coliseum. Redshirt-junior
Jenna Staiti
led Georgia in both scoring and rebounding, recording her fourth career double-double and third of the season, with a season-high 18 points and 11 rebounds. Juniors
Maya Caldwell
and
Que Morrison
also scored in double digits, registering 12 and 11 points respectively.
GA v Miss St -
The Georgia Lady Bulldogs fell short to the No. 14-ranked Mississippi State Bulldogs, 73-66, in a back-and-forth battle Sunday afternoon in Stegeman Coliseum. Senior
Stephanie Paul
paced Georgia in both scoring and rebounding, recording 15 and nine respectively. Paul was one board away from recording her fourth-career double-double. Juniors
Que Morrison
(14) and
Gabby Connally
(11) joined Paul in double-figure scoring. Besides the early two-point lead off the first basket from Paul, Mississippi State led for nearly all of the opening five minutes of play.
GA v Ole Miss —
Behind a season-high 18 points from senior forward
Stephanie Paul
, the Georgia Lady Bulldog basketball team defeated Ole Miss in the Southeastern Conference opener, 58-51, Thursday evening at The Pavilion. Georgia has now won seven of its last nine games this season and improves to 10-4 overall ahead of Sunday's matchup against No. 14 Mississippi State at Stegeman Coliseum. The Lady Bulldogs missed their first seven shots in the game and found themselves in an early 7-0 hole. Georgia then went on a 13-0 run, highlighted by a 3-pointer from
Gabby Connally
, to take a 13-7 lead halfway through the opening period. The Rebels went cold in the second quarter, and were unable to hit a basket in the first five minutes of the period. Georgia reclaimed the lead, 22-19, with 3:29 remaining before the half.
Minutes top 6
: TN 69% GA 73%
FG% :
TN 45% opp 38% GA 42% opp 37%
3ptr's :
TN 74/25532% GA 62/214=29%
FT's :
TN 65% GA 74%
Pts :
TN 75 opp 55 GA 65 opp 60
REBs :
TN 51 opp 34 GA 40 opp 36
Ast/PG :
TN 18 GA 15
TO's/PG :
TN 17 GA 19
Asst/TO :
TN 272/250=1.1to1.0 GA 222/282=.78 to 1.0
Watch for #2 Gabby Connally shooting threes avg 12.8 and shoots 36% from the arc
#14 Jenna STAITI avg 10.1, shoots 50% all inside the arc
#11Maya CALDWELL, avg 9.9 shoots a lot of 3's but only at 21%
# 3 Stephanie PAUL, avg 6.9scores inside
#23 Que MORRISON, avg 6.4
the rest......,,,,
I think a fast start will benefit us and take the life out of GA…if it is close, they will keep it close as they did with MS…
Coach Jumper's prediction UT 77 GA 60 (
Final
73-56)
Last edited: