Joined

Feb 22, 2016
Messages

5,866
Likes

6,359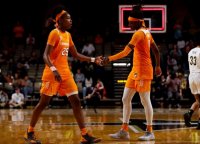 "Let's Do This"
KNOXVILLE, Tenn. -- No. 22/22 Tennessee (17-4, 7-1 SEC) will play its second No. 1-ranked team of the season, as the Lady Vols travel to Columbia to take on No. 1/2 South Carolina (20-1, 8-0 SEC) in Colonial Life Arena at 1:02 p.m. ET on Sunday.
Sunday's match-up will offer a battle between the SEC's first-place team, South Carolina, and the Lady Vols, who are tied with Mississippi State for second place with one loss apiece.
LADY VOLS VS. NO. 1 TEAMS
This marks the first time since 2011-12 that the Lady Vols have faced two No. 1 teams in a season. UT went 0-2 that year, losing to Baylor twice.
Tennessee's last win over a No. 1-ranked team was on March 6, 2005, when the Lady Vols beat LSU, 67-65 in the SEC Tournament title game in Greenville, S.C.
UT's last true road win over a No. 1 came on Jan. 24, 2004, when the No. 2 Big Orange upended top-ranked Duke at Cameron Indoor Stadium, 72-69
BATTLE OF SEC LEADERS IN LEAGUE PLAY
South Carolina's No. 1 scoring offense (88.8) in league games faces Tennessee's No. 1 scoring defense (58.8).
The Gamecocks' 49.3 field goal percentage in SEC games meets the Lady Vols' 35.1 field goal percentage defense.
South Carolina, No. 1 in rebounding offense (47.2) and rebounding defense (30.6), meets Tennessee, which ranks second (41.8 and 31.9) in those categories
UT freshman Jordan Horston (6.0) and USC senior Tyasha Harris (5.5) rank No. 1 and No. 3 in assists per SEC game.
Tennessee's Tamari Key (4.5) and South Carolina's Aliyah Boston (1.9) stand No. 1 and No. 4 in blocked shots in league contests.
Lady Vol Rennia Davis (81.1) and Gamecock Aliyah Boston (80.8) rank No. 3 and No. 4, respectively, in free throw percentage in SEC play.
THE ROAD LEADING UP TO THIS
Tennessee enters Sunday having won six of its last seven and nine of its last 11.
UT has won six straight SEC games and is 3-1 in league road contests, dropping only an 80-76 decision vs. #13/13 Kentucky on Jan. 5.
Rennia Davis is averaging 22.7 points per game over her last five, shooting 50.0 percent from the field, 38.5 on threes and 89.5 at the charity stripe.
Jazmine Massengill is averaging 10.7 ppg. and shooting 54.2 percent over the last five games.
South Carolina comes in riding a 14-game winning streak since losing to No. 17/23 Indiana at the Paradise Jam in the U.S.V.I. on Nov. 28.
The Gamecocks are coming off an 87-32 win at Ole Miss. on Thursday night. UT collected an equally impressive 84-28 victory at Ole Miss on Jan. 9.
USC's closest game of late was an 81-79 home win over No. 9/9 Mississippi State on Jan. 20.
RECAPPING OUR LAST GAME
Junior forward Rennia Davis poured in 22 points to lead No. 22/22 Tennessee to a 78-69 victory over in-state rival Vanderbilt at Memorial Gymnasium in Nashville on Thursday night.
Davis scored 16 of her points in the second half to hit double figures in points for the 19th straight game and for the 33rd time in her past 34 games. Jazmine Massengill was Tennessee's (17-4, 7-1 SEC) second-highest scorer with 14 points, and Jordan Horston and Rae Burrell each turned in 11.
Vanderbilt (12-9, 2-6) was led by Koi Love who had 16 points. Kiara Pearl added 13.
NOTES FROM THE LAST GAME
Team Effort: Tennessee had four players in double figures (Davis - 22, Massengill - 14, Burrell - 11, Horston - 11), and every player who saw action contributed at least two points.
Burrell Back In Double Digits: Sophomore Rae Burrell came off the bench to turn in 11 points against the 'Dores. It's the ninth time this season she has scored 10 or more and the third time in SEC play.
Massengill Hitting Her Stride: Jazmine Massengill turned in her second double-digit performance in three games, setting a new SEC high of 14 points against Vandy while doling out three assists. She has now scored 10+ points on six occasions this season.
Davis Making Moves: Rennia Davis recorded her fifth 20+ game of the season and the 12th of her career. Twelve career games with 20+ points ties her with Semeka Randall and Daedra Charles for ninth all-time among Lady Vols. Additionally, she raised her career total to 1,239, passing Abby Conklin to rank 32nd all-time among Lady Vol scorers.
Shooting 50 Percent Or Better: The Lady Vols hit 51.7 percent of their shots against Vandy, marking the ninth time this season and the fourth time in SEC play they have shot 50 percent or better. That occurred only three times during the entire 2018-19 season.
UT-USC SERIES NOTES
UT enters Sunday's contest with a 50-8 advantage in the series, including 21-2 in Columbia, 22-3 in Knoxville and 7-3 at neutral sites. UT has won the last two times in Columbia.
Tennessee is 5-3 vs. USC during the postseason and is 1-0 in overtime, taking a 79-73 extra-frame decision over the Gamecocks in the Palmetto State on Feb. 15, 1996. UT is 3-2 vs. USC in the SEC Tourney.
Harper was 5-0 vs. USC as a player, participating in the only overtime game between these schools in 1996.
Since 2010, UT and USC each have won four SEC regular-season titles, with UT winning or sharing in 2010, 2011, 2013 and 2015 and USC doing so in 2014, 2015, 2016 and 2017.
After defeating South Carolina, the regular season SEC champs at 14-2, the 13-3 Lady Vols went on to claim the 2014 SEC Tournament title in Duluth, Ga.
Tennessee lost to South Carolina, 64-60, on Feb. 2, 2012, in Knoxville, but rebounded to defeat USC in the 2012 SEC Tournament semifinals in Nashville, 74-58, en route to its 16th SEC postseason championship.
ABOUT SOUTH CAROLINA
South Carolina returned two starters and six total letterwinners from last season's 23-10 squad that was second in the SEC at 13-3.
USC was picked by the media to win the SEC this season. The coaches projected USC second.
The Gamecocks start three freshmen from the nation's No. 1 class, with rookie Aliyah Boston leading the way in scoring (13.2) and rebounding (8.9).
THE LAST TIME WE MET IN COLUMBIA
Senior Mercedes Russell recorded a 16-point, 12-rebound double-double to lead No. 6/6 Tennessee to an 86-70 victory over No. 9/8 South Carolina on Jan. 14, 2018, at Colonial Life Arena.
Jaime Nared added 21 points as the Lady Vols (16-1, 4-1 SEC) bounced back from their first loss of the season with a win over the defending national champions and their second consecutive victory in Columbia. UT was fueled by a balanced attack, with five different players reaching double figures.
Tyasha Harris put on an offensive display for South Carolina (14-3, 3-2 SEC) with a game-high 28 points and four assists. The Gamecocks were able to cut the deficit to four with under six minutes remaining in the fourth quarter, but Tennessee relied on strong defense and timely scoring to end the game on a 16-4 run
South Carolina's last 3 game recaps:
South Carolina Breaks Records at Ole Miss
OXFORD, Miss.
(AP)
Leticia Amihere
scored 16 points and No. 1 South Carolina held Mississippi scoreless in the first quarter and limited Ole Miss to two points in the first half on the way to an 87-32 win on Thursday night. The Gamecocks (20-1, 8-0 Southeastern Conference) led 18-0 after one period and scored 27 unanswered points before Mississippi (7-14, 0-7) got its first basket. South Carolina led 32-2 at the break.
Mikiah Herbert Harrigan
scored eight points, blocked two shots and added a steal in the early decisive surge as the Lady Rebels missed 19 consecutive shots and had 16 turnovers.
Tyasha Harris
and Herbert Harrigan
finished with 10 points apiece for South Carolina, which led by as many as 57 points, 87-30, on a 3-point shot by
Olivia Thompson
with 1:17 remaining.
Harris Becomes All-Time Assists Leader as Gamecocks Win at UGA
ATHENS, Ga. (AP)
Tyasha Harris
is realizing the value of her scoring even as she has claimed a new title as South Carolina's career assists leader. Harris scored 13 points and added seven assists and No. 1 South Carolina rode an overwhelming opening period to its 13th consecutive win, beating Georgia 88-53 on Sunday. Harris, a senior, now has 617 career assists, passing the old mark of 615 set by Cristina Ciocan from 2001-04. ''It's a great record to get,'' Harris said. ''I always like passing the ball. That's what I pride myself on. A little bit too much, I guess you could say, sometime. But it's great.''
Aliyah Boston
led South Carolina (19-1, 7-0 Southeastern Conference) with 15 points and four of the Gamecocks' 11 steals.
Destanni Henderson
had 14 points.
South Carolina Outfights No. 9 Mississippi St 81-79
COLUMBIA, S.C. (AP)
Down nine points in the fourth quarter and close to getting run out of her building, South Carolina coach
Dawn Staley
didn't panic. Her top-ranked Gamecocks wouldn't let her.
Tyasha Harris
had a season-high 23 points and the Gamecocks rallied in the final period to win their 12th straight with a 81-79 victory over No. 9 Mississippi State on Monday night. Staley called time out after South Carolina trailed 71-62 with eight minutes to go and quickly saw her players were locked in and eager to turn things around. Harris and the Gamecocks put that belief into action, snapping off a 12-2 run to get them back into the game.
Zia Cooke
made a three-point play and a basket, both which put the Gamecocks (18-1, 6-0 Southeastern Conference) back in front. JaMya Mingo-Young had consecutive shots as Mississippi State (17-3, 4-1) built a 79-76 lead with 3:28 to go. But the Bulldogs missed their final five shots. Mississippi State had several chances to go in front, but Rickea Jackson and Jordan Danberry both missed shots to put the Bulldogs back in front in the final two minutes.
By the Numbers:
Depth (10+ mins.)...SC 9,,,UT 11
FG%...SC 47% opp 33%,,,UT 45.5% opp 31.5%
3 pt...SC 109/294 for 37%,,,UT 103/318 for 33%
FT's...SC 332/481 for 69%,,,UT 225/345 for 65%
PTs...SC 83.9 opp 56.3,,,UT 73.0 opp 55.9
REBs...SC 47.4 opp 34.1,,,UT 47.9 opp 35.0
Asst/TO's...SC 333-338,,,UT 368-358
STLs...SC 202,,,UT 124
BLKs...SC 173,,,UT 156
Gameplan
SC will look downcourt for transition offense...we must beat them downcourt and make them use their "set"
SC takes pride in drawing charges...when we attack the paint it cannot be timid, if they do get in the way,,run over them and make a statement
SC looks for assists on every basket...If we get them into a 1-on-1 game, advantage us
Aliyah Boston is who they like to run the offensive-sets through...Make her run and tire her out, making her work for everything
Dribble-drives and DD's with kickouts are how you will beat South Carolina
We must get back on defense and take away their fastbreak
Coach K has to work the refs
The mid to high paint curls will give us the best shot-opportunities
Predictions:
Coach Jumper
: UT 80 SC 76
Masse
: SC 77 UT 63
RPI.com
: SC 86 UT 61