Joined

Feb 22, 2016
Messages

7,349
Likes

8,135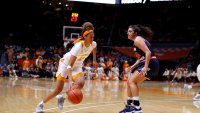 After Game notes:
Well, they could have scored 100+, but Coach K had a better plan,,,they worked on things late in the game: the 2-3 zone,, extended time for Saunders,, working the ball a little deeper in the shot-clock,,.. also in this game and several more combinations were working well together: Jazmine and Rae,//,Key and Horston,, were especially in sync today.

The good:
Jazmine's passing into the post,,better decisions made in transition (7:02 Q1),,
KK is starting to exert herself on the court now. She had a very strong game
Burrell played much more under control after her initial burst, she settled into a nice rhythm
Saunders contributed to more plays
Once Snider began to score on us, she was shut down instead of given freedom,,like in the past when a scoring run was made at us,,,this time we responded with the shut-down.
The 2-3 or 2-1-1-1 trap was solid tonight
Davis played a good game, but really fully showed up at 1:02 of Q3
There was a Jesse sighting
19 assists 19 turnovers...I can live with a one to one, want two to one, but as long as it is even or better. I'll take it
The bad:
Started the game 1 for 9...This should have been a teaching moment...timeout!
We are way too long on shot/drive reaction. We don't cut with the cutter, nor box-out the others on action-initiation to cut or shoot...this has to be a focus
Our bigs are giving low targets and our guards are trying to hit the low targets...Post players need to give high targets (hands) especially when we have such a height advantage.
KK quit pulling the ball down...If you give a higher target, you will stay high. Right now they are looking for you and your hands are constantly down, so they are passing low to you
Teaching moment in Q3 at 4:30...Call a timeout and don't let them play like that
UT can learn from this game tonight. AF played cutter basketball and it worked...When a player on their team spotted-up or drove, there was always 1 or 2 cutting behind the action...this is why they were out-hustling us early..they were playing AAU cutter basketball
This team

looked like a real Lady Vol team to me tonight. Not because we destroyed someone, but because we didn't look bad on any facet of the game today,,,1-9 shooting start, notwithstanding. Coach J KNOXVILLE, Tenn.

-- The Lady Vols (6-0), who are ranked 20th in this week's AP Poll and debuted on Nov. 26 at No. 25 in the USA Today Coaches Poll, welcome Air Force (1-6) to Thompson-Boling Arena for a 2:02 p.m. ET contest on Sunday. This marks Tennessee's first matinee of the season after opening with seven straight 7:02 p.m. tips, including the exhibition. The Lady Vols are playing their fourth of six straight games on Rocky after opening with two of the season's first three contests on the road. After facing Air Force (Dec. 1), UT welcomes Texas (Dec. 8) and Colorado State (Dec. 11) to The Summitt. The Air Force game is part of UT's Salute to Service Week, while the Texas match-up is part of the Big 12/SEC Challenge. The meeting with the Falcons is the first-ever between the programs in women's hoops. Tennessee stayed perfect on the season on Tuesday night, bolting to a 48-11 halftime lead and coasting to a 92-51 victory over Arkansas-Pine Bluff. Air Force, meanwhile, began a two-game eastern U.S. swing in Annapolis, Md., dropping a 67-59 decision against Navy on Wednesday evening.

GAMEDAY TIMES & BROADCAST INFO

PROMOS
It's Salute to Service Week, when we honor all who have served and say thank you for their service and sacrifice. Current military members and veterans may present their Military ID or DD 214 at Gate C, Gate E or the ticket tent located on Phillip Fulmer Way prior to entering Thompson-Boling Arena for complimentary admission for themselves and their immediate family
RECAPPING OUR LAST GAME
No. 20/25 Tennessee moved to 6-0 on the season, defeating the University of Arkansas at Pine Bluff, 92-51, on Tuesday night at Thompson-Boling Arena.
The Lady Vols were led by junior forward Rennia Davis, who recorded her fourth double-double of the season with 17 points and 11 rebounds. Sophomore Rae Burrell added a career-high 17 points, while junior Kasiyahna Kushkituah chipped in 15.
The Golden Lions (0-4) were paced by junior Trasity Totten, who finished the night with 19 points and four rebounds. Jayla Atmore and Tyler Pyburn contributed 12 and 11, respectively.
Tennessee finished the game with 54 points off the bench and 62 in the paint, both season bests. The Lady Vols also out-rebounded the Lady Lions 53-32, continuing their streak of out-performing their opponents on the boards for the sixth-straight game.
NOTES FROM THE LAST GAME
Big First Quarter: The Lady Vols poured in 26 points during the first quarter against UAPB, their highest point total in any quarter this season. Meanwhile, they held the Golden Lions to just seven points, the fewest scored by any UT opponent in a first quarter this season.
Balanced Attack: Tennessee's first four baskets came from four different players, and by halftime 10 of the 11 active roster members had scored at least two points. By the end of the game, Tennessee had seven players with five or more points and three in double figures.
Lockdown Defense: The Lady Vols held Arkansas-Pine Bluff scoreless for nearly nine minutes in the second quarter, allowing just four points to tie for the third-fewest allowed in a quarter all-time. The 11 points allowed in the first half tied for the fifth-fewest scored by a UT opponent in any game.
Hot Hands: The 92 points against the Golden Lions was the highest point total managed by a Lady Vol team since they scored 98 against Murray State on Dec. 28, 2018. With a field goal percentage of 54.5 percent against UAPB, the Lady Vols posted their highest shooting percentage of the season and best since clicking at a 61.7 rate vs. Liberty in the NCAA First Round on March 16, 2018.
Bench Points: Tennessee's bench produced a season-high 54 points, outscoring the Golden Lions' bench by 28 points. UT had 15 in the first quarter.
Double-Double Davis: Junior Rennia Davis logged her fourth double-double of the season with 17 points and 11 rebounds. The effort moved her career total to 22, tying her with Shekinna Stricklen, Karla Horton and Shyra Ely for the 11th-most career double-doubles by a Lady Vol.
HARPER HISTORY IN THE MAKING
Kellie Harper will attempt to open a season 7-0 for the first time in her head coaching career. She twice opened 4-0 at NC State in 2011-12 and 2012-13 before topping that with a 6-0 start at UT this season.
On Nov. 18, 2019, Kellie Harper became the 40th person to play for and coach an AP-ranked women's basketball team when UT debuted at No. 23.
She became the 13th person to accomplish that feat at the school where she also played.
According to Hoops Guru Mel Greenberg, UT and USC are the only schools with two alums to accomplish that feat. Harper and Holly Warlick did so at Tennessee, while Cheryl Miller and Cynthia Cooper-Dyke did so at Southern Cal.
Harper is one of only 11 coaches to lead three different women's programs to NCAA Tournament appearances (Western Carolina, NC State, Missouri State).
She will attempt to join Jim Foster (St. Joseph's, Vanderbilt, Ohio State, Chattanooga) in becoming the only coaches to take four different women's teams to the NCAA tourney.
TENNESSEE TOPICS
Tennessee has opened a season 6-0 for the third year in a row and will attempt to make it 7-0 for the third time in as many seasons and for only the fifth time in the past 10 years.
Junior guard/forward Rennia Davis has posted double-doubles in three of her past four games. She ranks No. 8 nationally with four double-doubles.
Junior forward Jaiden McCoy (injured left hand/missed three of last four games) returned to action vs. UAPB, tallying a season-best six points and five rebounds.
The Lady Vols have won the rebounding battle in all six games and have an +18.3 margin vs. opponents.
Eight players currently are averaging at least 4.5 rebounds per game, led by Rennia Davis at 8.5 and Kasiyahna Kushkituah at 6.2. Seven different players have led the squad in rebounds during the first six games.
Tennessee is allowing only 51.2 points per game and has given up more than 51 points in only two of its six contests.
At home, the Lady Vols are allowing only 44.0 ppg.
The highest field goal percentage UT has allowed in a game this season was .348 to ETSU in the opener.
Rae Burrell leads Tennessee in scoring average in home games at 12.3 ppg.
Jazmine Massengill has recorded 15 assists vs. only three turnovers in four home games this season.
Kasiyahna Kushkituah is shooting 63 percent from the field and averaging 10.3 ppg. in home contests.
Tennessee has had 16 or more assists in each game this season and a season-best 25 vs. UAPB.
The Big Orange have been big on swatting shots, averaging 7.5 blocks per contest. Tamari Key averages 2.8 per game.
Jordan Horston (10-24, .417) and Rennia Davis (6-19, .316) have accounted for 16 of UT's 28 three-pointers this season. Lou Brown has four.
The Lady Vols rank No. 2 nationally in rebounds per game (53.0) and No. 2 in reb. margin (+18.3). Eight players are averaging at least 4.5 rpg.
Jordan Horston is averaging 4.8 assists per game. She is dishing dimes at a rate that would rank her No. 2 all-time among freshmen at UT.
Freshman Tamari Key has recorded 17 blocked shots, more than any Lady Vol had all last season and ranking 10th nationally in 2019-20.
Coach Jumper's Prediction:
A little more "dessert" on the table....Lady Vols 101 AF 45
Last edited: