Joined

Feb 22, 2016
Messages

13,178
Likes

20,380
"Jazzy" Powell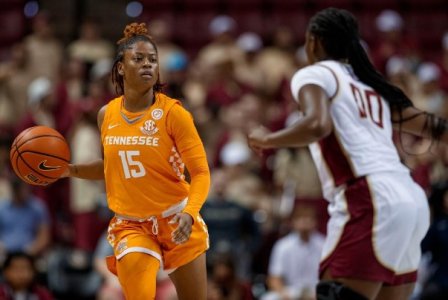 @knoxvol52
105-70
@chuckiepoo
75-58
@Volfan2012
93-74
@Coach Jumper
82-68
Women's Basketball November 10, 2023​
KNOXVILLE, Tenn.
-- No. 11/12 Tennessee is back home on Monday night to welcome in-state foe Memphis to Food City Center.
The Lady Vols (1-1) will meet the Tigers (1-1) in a 6:32 p.m. ET contest on The Summitt. The game will be streamed live on SECN+.
After competing in three games in the span of five days, the Lady Vols will play their next two contests during a nine-day window of time, perhaps having a chance to get their legs back under them.
GAMEDAY TIMES & BROADCAST INFO​
UT-UM STORYLINES​
Monday night's battle will feature a pair of program leaders in fifth-year Tennessee head coach Kellie (Jolly) Harper and first-year Memphis skipper Alex (Fuller) Simmons, who each grew up in Tennessee and played their college basketball at UT for the late, great Pat Summitt.
The Lady Vols' Harper, of course, played point guard for the Big Orange from 1995-99, helping the school win three consecutive NCAA titles in 1996, 1997 and 1998.
Simmons, meanwhile, was a forward/center on Rocky Top from 2004-09 and was part of Tennessee's last two NCAA Championship teams in 2007 and 2008.
Harper called Sparta home growing up, while Fuller hails from Shelbyville.
Tennessee senior guard Destinee Wells, who transferred to the Lady Vols from Belmont over the offseason, is from Lakeland, Tenn., just outside Memphis and graduated from Houston High School.
Memphis fifth-year guard Madison Griggs also graduated from HHS, doing so a year earlier.
Fifth-year Tiger guard Kai Carter played against Tennessee last season as a member of the Rutgers team that the Lady Vols defeated, 94-54, at the 2022 Women's Battle 4 Atlantis tournament. Carter was held to two points on 1-of-8 shooting.
GAME PROMOTIONS
Monday is Hoops For Hunger Night. Donate two non-perishable food items and receive one complimentary ticket. Donations benefit Second Harvest Food Bank, helping feed East Tennessee families in need.
Postgame Autographs: Avery Strickland
Download the Tennessee Athletics app to join the Coca-Cola GBO Zone Lightshow.
Kids 12-and-under pricing is available for only $5.
Purchase tickets at AllVols.com or by calling the Tennessee Athletics Ticket Office at 1-800-332-VOLS or 865-656-1200.
ADDITIONAL BROADCAST DETAILS
Michael Wottreng (play-by-play), Kamera Harris (analyst) and Sarah Detwiller (reporter) will have the call for the SECN+ live stream.
All games included in the ESPN package (ESPN, ESPN2, ESPNU) will be available through WatchESPN, accessible online at WatchESPN.com, on smartphones and tablets via the WatchESPN app, and streamed on televisions through Amazon Fire TV, Apple TV, Chromecast, Roku, Xbox 360 or Xbox One to fans who receive their video subscription from an affiliated provider.
The contest also can be heard on Lady Vol Network stations and by audio stream, with Brian Rice providing play-by-play.
A link to the live audio stream can be found on the Hoops Central page or the schedule on UTSports.com.
For a list of Lady Vol Network affiliates, please click on the Fans tab at the top of UTSports.com, select Vol Network and then select the Vol Network Affiliates tab.
Air time generally occurs 30 minutes prior to tip-off.
The game also is available on SiriusXM channel 139 or 191 (SEC Channel).
PARKING, TRAFFIC FLOW, ENTRY ALERTS
Fans coming to campus looking to purchase parking will do so on site with a credit card for all events, including men's and women's hoops.
The designated ride share drop-off/pick-up area will be on Todd Helton Drive west of Food City Center.
Campus parking is limited for large Food City Center events, but there is a free shuttle service from the Ag Campus for all fans, dropping off and picking up immediately adjacent to Food City Center. ADA shuttles and entry will operate the same as previous years.
Due to on-going construction and upgrades to Neyland Stadium, fans should be advised of changes coming to normal traffic patterns on Phillip Fulmer Way and Peyton Manning Pass during the 2023-24 basketball seasons. Please prepare in advance and stay tuned for more information.
Phillip Fulmer Way from G-10 garage to Neyland Stadium Gate 21 vicinity will be closed (tentatively set for Dec. 4, 2023).
Vehicular entry via the area northeast of the Food City Center will at times be inaccessible, and avoiding that vicinity is strongly recommended.
All tickets and Tennessee Fund parking passes remain digital.
Just like last season, fans will see walk-through metal detectors outside of all Food City Center entrances.
LADY VOL FIREPOWER ON OFFENSE
Tennessee is averaging 92.0 ppg. after two contests.
That average is the highest through the opening two games since the Lady Vols averaged 94.0 ppg. through the first two tussles of the 2014-15 campaign.
UT will attempt to hit the 90-point mark in three consecutive games to open a season for only the second time in history when Memphis comes to town.
The only other time Tennessee did so was in 2001-02, when the Lady Vols defeated Chattanooga (97-57), USC (106-66) and Louisiana Tech (90-75) before the streak ended two points short with an 88-57 win over George Washington on Nov. 27, 2001.
UT A THREAT BEYOND THE ARC
Tennessee is averaging nine three-pointers per game through the first two contests of the 2023-24 season.
The Lady Vols hit eight vs. Florida A&M and 10 vs. Florida State.
The 18 treys in the opening two games rank as the most since Tennessee made 22 in the first two contests of the 2015-16 season.
Senior Jewel Spear, who hit 93 threes at Wake Forest last season paces the Lady Vols with seven in 14 attempts thus far. Sara Puckett has four, while Rickea Jackson has three.
Tess Darby, who paced the Lady Vols with 70 in 2022-23, hit two at Florida State on Thursday night.
A year ago, the Big Orange tallied a combined total of nine treys in their first two contests.
LADY VOLS VS. IN-STATE FOES
The Tennessee women are 260-61-1 all-time vs. four-year college teams from the Volunteer State, and Kellie Harper is 16-0 in those matchups in her fifth season on Rocky Top.
The Lady Vols were 3-0 in 2022-23 (wins vs. Chattanooga and Vanderbilt (away and home), were 6-0 in 2021-22 (wins vs. Tenn. Tech, ETSU, Chattanooga and Belmont at home and vs. Vanderbilt on the road and at home) and were 3-0 in 2020-21, with wins over ETSU, Lipscomb and Middle Tennessee, with two games on the schedule vs. Vandy (home and away) canceled.
UT has won 16 in a row over schools from within the state border and 32 of the last 33, with the lone setback during that run being a 76-69 loss to Vanderbilt in Knoxville on Feb. 28, 2019.
RECAPPING THE LAST GAME
#11/12 Tennessee overcame a 15-point first-half deficit to take a six-point lead in the second half, but No. 18/22 Florida State battled back and hit a last-second three-pointer to seize a 92-91 victory at the Donald L. Tucker Center in Tallahassee on Thursday night.
Rickea Jackson, who finished with 31 points and 17 rebounds, put the Lady Vols (1-1) up, 91-88, with 1:10 to go on a second-chance bucket. With 52 ticks left on the clock, though, Amaya Bonner found the net with a three to tie it up at 91. FSU's Alexis Tucker drew a foul with 24 seconds left, hitting one of two free throw attempts to put the Seminoles (2-0) back in front, 92-91. UT got a shot off with three seconds remaining, but it wouldn't fall.
Jackson was joined in double figures by Jewel Spear with 18, followed by Sara Puckett with 15 and Tess Darby with 10.
Florida State had five players scoring in double figures, led by O'Mariah Gordon with 22 and Ta'Niya Latson with 20. Tucker added 17, while Bonner and Makayla Timpson chipped in 16 and 10, respectively.
Tennessee hit an impressive 56.3 percent of its shots in the opening period, but Florida State was sizzling at a 66.7 rate, including 75 percent (6-8) beyond the arc. The Lady Vols, however, affected the Seminoles the rest of the way, never letting them above 43 percent in the final three periods. Bolstered by a 60-percent third-period shooting effort, UT finished the night at 50.7 percent from the field, while FSU shot 46.6 percent. From the arc, the Big Orange ended up 10 of 20 (50 percent) for the contest, while Florida State was 13 of 22 for 59.1 percent.
POSTGAME NOTES VS. FSU
ANOTHER STRONG NIGHT FOR JEWEL VS. FLORIDA STATE: Jewel Spear tallied 18 points in the Florida State contest, bringing her all-time points per game average against the Seminoles to 15.3. Spear faced the Noles six times during her three seasons at Wake Forest, where she averaged 14.8 points per game.
10TH CAREER DOUBLE-DOUBLE FOR KEA: With 31 points and 17 rebounds, Jackson posted the 10th double-double of her career. Her 31 points marks her 17th 20-plus-point game as a Lady Vol, which ranks eighth in program history. Per ESPN statistician Jeff Muir, Jackson became the second player this season to produce a 30/15 game, joining Akron's Reagan Bass, who had 33 and 16 vs. Oakland on Nov. 6, 2023.
RICKEA RACKING UP POINTS: Rickea Jackson dropped 31 points, the second-most points the forward has scored in a Lady Vol uniform. Her highest total came in the first round of the 2023 SEC Tournament, where she totaled 34 against Kentucky (3/3/23).
SARA BUCKETTS RETURNS: Sara Puckett knocked down three treys against the Seminoles, tying her career high for three pointers in a game. The senior forward last hit a trio of threes in the second round of the NCAA Tournament against Toledo (3/20/23). The 6-foot-2 forward finished with 15 points vs. FSU.
MORE ON RICKEA'S DOUBLE-DOUBLE VS. FSU
Rickea Jackson became the seventh Lady Vol in history to record a 30-15 double-double with the 13th in Tennessee annals.
Jackson follows Patricia Roberts (5 times), Cindy Brogdon, Mary Ostrowski, Shelia Collins (twice), Chamique Holdsclaw (twice) and Candace Parker.
She joins Shelia Collins and Chamique Holdsclaw as the only UT players to accomplish this feat on an opponent's court.
Jackson's rebounding total of 17 ranks as the seventh-most in a 30-15 double-double by a Lady Vol.
UT/UM NOTES
UT has won 19 straight in the series and is 11-0 vs. Memphis in Knoxville.
The teams last met on 12/29/01 in Memphis.
A LOOK AT MEMPHIS
The Tigers are led in scoring by Madison Griggs (15.0 ppg.) and Raven Sims (10.0 ppg.).
Griggs, a fifth-year senior, was named to the American Athletic Conference's Preseason All-AAC First Team. It marks the first time in her career she has made that squad.
ABOUT THE HEAD COACH
Alex (Fuller) Simmons comes to Memphis off her most successful season as a head coach at Gardner-Webb, with a 29-5 overall mark and a perfect 18-0 record in Big South play last season.
She was named the 2023 Big South Coach of the Year, leading the Runnin' Bulldogs to the first round of the NCAA Tournament.
A native of Shelbyville, Tennessee, the two-time NCAA Champion (2007, 2008) played for the Lady Volunteers under Hall of Fame head coach Pat Summitt from 2004-09
Simmons, who was 90-59 in five seasons at GWU, previously was a G.A. at Kansas (2009-10) and an assistant at Middle Tennessee (2010-13) and Ole Miss (2013-18) before becoming a head coach.
MOST RECENT GAME
The Tigers picked up their first win of the year, and Alex Simmons' first as head coach, last Thursday night with a 95-51 home victory over Alabama State.
Four players scored in double figures, led by Madison Griggs with 18. Raven Sims added 16, followed by Kai Carter (11) and Destyne Jackson (10).
Memphis led 25-4 after one and 45-12 at the half in racing to the victory.
The Tigers generated 17 steals and forced 30 ASU turnovers in the contest, creating 33 points off miscues and 31 points via fast breaks.
LAST UT-UM GAME
Gwen Jackson led four in double figures with 18 points, as UT cruised, 92-66, over the Tigers at the Pyramid in Memphis on Dec. 29, 2001.
UT shot 51.6 percent and forced 24 UM turnovers.
WHAT'S NEXT?
Tennessee is back at Food City Center on Sunday, Nov. 19, as Troy visits Knoxville for a 2 p.m. ET contest streamed by SECN+.
That matinee will be the Lady Vols' Salute To Service game, offering thanks to members of the armed forces who serve or have served our country.
Current military members and veterans may present their Military ID or DD 214 at the gates upon entry to Food City Center for complimentary admission for themselves and their immediate family.
Postgame Autographs - Edie Darby.
Last edited: