Joined

May 15, 2009
Messages

3,999
Likes

5,605
(author's note: this isn't about who you might think it's about, that one's coming but isn't quite here yet. Be patient.....)
I'll freely admit that I was extremely surprised by the gentleman subject of this week's post. Like most, I knew him mainly as a voice on the radio backing up Bob Kesling (his call of the end of the "Dobbnail Boot game" is forever etched in my brain housing group). I knew that he had played for the Vols, but I didn't know quite how
well
he played for the Vols; and I definitely had no idea of his job outside of being that voice on the radio.
From 1964 to 1966, Huntingdon High School in Huntingdon, Tennessee had themselves a heck of a quarterback. The young man earned himself All-State honors in his senior season, then chose to play for the home state school and Head Coach Doug Dickey. Unfortunately for the young man, there were already entrenched starters (one of which will DEFINITELY have his own episode of this) under center for the Vols, and his outlook for playing the position appeared bleak at best.
However, Coach Dickey saw something in the young man, my personal guess would be an incredible level of intelligence, and decided that the young QB would be better suited to pick off passes instead of throwing them. This turned out to be quite a good decision, not only for the player, but for the defensive backfield as well. The 1970 squad, anchored by the young man in question, is still regarded by many as the best in Vol history.
There have been some absolute studs in the defensive backfield since the young man's playing days. There's been players that have played their way into becoming first-round draft picks, there's been players that have carved out fantastic careers for themselves in both Orange and White and then in NFL colors. None of the players that followed the young man from Huntingdon have eclipsed his career record of 18 interceptions in Orange and White.
I've blathered on long enough, I think. Now it's y'alls turn: talk to us about Tim Priest.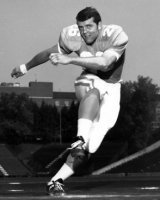 Last edited: