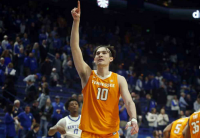 As good as Fulkerson was last season — especially down the stretch — he's just starting to scratch the surface of what Barnes has always believed he could be. Barnes said again during a recent appearance on The Erik Ainge Show (WNML radio, Knoxville) that he believed at the time that Fulkerson was the best player in a signing class that also featured two-time SEC Player of the Year and current Boston Celtic Grant Williams, All-SEC point guard and current Detroit Piston Jordan Bone, current NBA Draft prospect Jordan Bowden, Jalen Johnson and athletically freakish guard Kwe Parker.
Fulkerson was rated fifth among Tennessee's six signees in that class, but Barnes has said several times that he believed back then that Fulkerson was the best player he signed in that class. He went even deeper on that topic on his visit with Ainge, though, suggesting other programs also believed Fulkerson was the best player the Vols added in that class.
Barnes: Vols' John Fulkerson nowhere near peak of his potential
Now back home in Kingsport and facing a situation like none before, Fulkerson is doing what he can to hone his skills. He can't practice against other players, but he has been able to work on his offensive moves and shots. "I'm lucky to get in a certain gym and work out every day," he said. "I'm lucky I have a trainer where we're able to use a facility to shoot and work out." For most players, it's the time of year to get better and increase their workout routines. Now, Fulkerson is off campus and unable to work out with Tennessee's strength coaches while also dealing with the state's stay-at-home order. He is lifting weights at home with his brother.
Despite being apart from his teammates, Fulkerson said it's important to keep the chemistry alive. The Vols have made arrangements to stay in close contact. "My teammates and I have a group chat on text message and Snapchat," he said. "We communicate every day. I also talk to someone on the coaching staff every day. They're always checking in and making sure everything is good. Even though we're away from each other, we communicate every day."
Fulkerson staying in shape, contact with teammates