Joined

Sep 12, 2011
Messages

964
Likes

1,413
So I've been looking at some game data to try to make sense of how the last few coaches have performed in games in which the expected winner did not win. This can be upsets, where we had the higher pregame probability of victory but failed to convert, or surprises where we won despite not being expected to. Mostly I wanted to see what our talent looked like in those games to get an idea for how we might have been over or under performing relative to that. The API I'm working with can only pull talent data from 2015, so we miss some of Jones early years, as well Dooley for now.
Still working on making sense of things, but one thing to notice is a negative diff means the other team was more talented, white a positive diff means they were less so. A very large positive diff such as in the Georgia State and BYU games indicates a much less talented team beat us, while negative diff for Alabama shows that the team we beat was significantly more talented on paper.
South Carolina is about as talented as we are in theory, but if you look at the probability we were expected to win 94% of the time, making it a rather large upset in that regard. In terms of good surprises, Pruitt has the most so far in 2019, but if you look at the talent differences, he achieved them with more talented players. If you look at his upsets, he also lost those games despite fielding significantly more talented teams. In some cases the differential was huge. Actually, our talent composite right now is the lowest of any of the years analyzed.
From 2015 at least, Jones had one surprise win, with was a somewhat more talented Georgia team that he beat in 2015. Other than that all of the unexpected outcomes during that period for him are upset losses that he lost despite having a talent differential of 107-209.
Here's the API I've been working with:
GitHub - CFBD/cfbd-python
If anyone is interested I can share the code.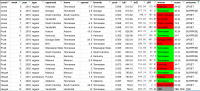 Partial Key:
prob = Pregame win probability for Tennessee
tal1 = Tennessee talent composite
tal2 = Opponent talent composite
diff = tal1 - tal2
outcome = UPSET/SURPRISE/EXPECTED/TBD (Here EXPECTED is filtered out, UPSET is an unexpected loss, and SURPRISE is an unexpected win)