Joined

Sep 7, 2004
Messages

1,323
Likes

4,082
I did this to point out just how deep a hole Tennessee football now occupies.
1st job: Stop digging. Personally, I don't see this happening in '21. Too much bleeding, too many defections of key personnel, a defense that surrendered 73 points IN THE SPRING GAME (bangs head), new offensive scheme, etc. If (and it's a big IF) the Vols can eke out 4-5 wins, I'll consider '21 a success. Something akin to US II Corps managing to not get chased out of North Africa after Kasserine Pass.
2nd: Player development. Let's face it, 4- and 5-star recruits aren't just going to start falling out of the sky just to play for Josh Heupel, not until the Vols start making real progress in resolving their deficits against those 5 schools. Ergo, Tennessee is going to have to take two-and three star recruits and mold them into 4- and 5-star PLAYERS. Given the Vols abject failures in this field over the last 15 years or so reversing this institutional failure is not only critical but may be Heupel's biggest challenge.
3rd: Discipline. UT simply cannot afford more "off the field" incidents. Period. Heupel needs to sit every one of them down and point out that other than getting issued jocks and t-shirts, they haven't done anything yet. Cameras are everywhere. Discipline off the field yields discipline ON the field and to succeed in the near term Tennesse is going to have to play disciplined football. The days of a John Majors or a Philip Fulmer simply rolling the ball out on the field against a second or third-tier opponent and saying, "My 22 are better than your 22" are long gone.
4th: Tone down the hype. Hype videos are great if you are coming off a 9-4 or 10-3 season. They ring hollow after a 3-7 disaster. I don't want to see a bunch of guys in gangsta poses telling us they "bad." I want to see them sweating in the sun, running the steps at Neyland, doing up-downs 'til they puke and watching game films late at night with a voice over of, "we're gonna get back up there." Vol fans are consumers just as devotees of this or that coffee or car maker. Last year's hype video, in retrospect, looked like one of those commercials for "X" new drug that claims to raise the dead and cause fish to bite, only to be followed 2-3 years later by spots from the law firm of Dewey, Cheatham and Howe advising people who took "X" to contact them for "significant compensation."
5th: Patience. As I said, Coach Heupel has his work cut out. It took John Majors eight years to back into an SEC Championship (Florida was ineligible in '85 because, well, Florida) and that was starting with a considerably better talent base in '77* and with virtually no restrictions on scholarships.
I still stand with Ol' Habbakuk:
For the vision still has its time,
presses on to fulfillment and will not disappoint;
if it delays, wait for it,
it will surely come, it will not be late
*Starters in '77 included Reggie Harper, Charlton Webb, Jimmy Streater, David Barron, John Chavis, Jimmy Noonan and Roland James.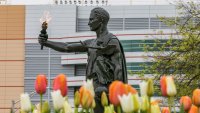 Last edited: