Hey everybody, time for another data-based recap...
Taking a deep dive into this class in the 247 composite is driving me nuts with the ESPN rankings being so terrible. I couldn't stand seeing Bailey as the 15 Pro-Style QB, Wideman/Hyatt as the #39/#50 WRs, Calloway as the #40 ATH, etc., so I made new composite scores for each member of the class using only 247 and Rivals.
For the players in the Rivals250 it was pretty straightforward to match up a composite score with the corresponding number from the 247 rankings, and for all the others I used the State/Position rankings to come up with a score for each then averaged them out to give them a composite value.
On a per-service level, just to see how much ESPN differs from the consensus, here is the average recruit per service, along with where each would rank in the composite:
Rivals
: 91.02 // 8
247
: 90.65 // 11
ESPN
: 88.99 // 16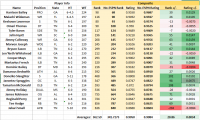 This takes us from 261.5 to 265.44 points in the composite, still good for the 10th spot, but the difference in average rating takes us from 11th to 9th (leaving out Albright for this exercise since he skews the results so much.)
Also, since we love to talk about blue-chip ratio... removing ESPN from the composite makes Beckwith and Slaughter composite 4-stars,
bringing our blue-chip ratio for this class up to 65.2%
, well above the 50% target, 8th in the country, and 5th in the conference ahead of Auburn and A&M.
And finally, since we're all wondering... according to these rankings, landing Evans would take us up to 7th in the NoESPN class rankings with 274.79 points (5th in the SEC, 2nd in the East) and 7th in average recruit at
91.18
(4th in the SEC, 2nd in the East.)
If you're curious, I went ahead and attached the summary in the zip file. Just an .xlsx file that includes all the rankings by source, and the team rankings with adjustments.