Joined

Oct 7, 2008
Messages

2,421
Likes

4,668
I don't post in here much & not trying to out do anyone. Just sharing what I have.
Really appreciate Tony & the guys for letting me hang around with them today & take some pictures. Met Tony before pre game, we talked; I gave him a couple baseball things & he was ok with me taking pictures.
Funniest story I overheard today: one of players was telling his team mates around him he forgot his cup. They were raggin him bout it. He told them "I have on my sliding shorts & uniform pants that should be good enough". We all laughed. I'm not outing the player
Took over 300 pictures & these tonite are all pregame. I'll post some game pics later.
Was a great day with good weather & a decent crowd
Had Tony sign a baseball that I'll be donating to St. Jude Children's Research Hospital here in Memphis.
Go Big Orange!!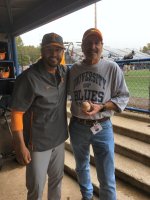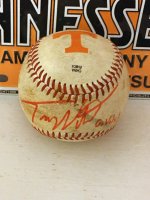 Last edited: