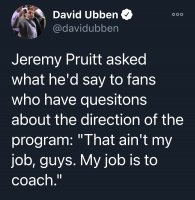 This guy doesn't get it and never will. As the head coach at the University of Tennessee, you better damn well have something to say to the fans after your complete inability to do your job effectively. Why the **** should we continue to support a program whose coach has so little concern for what the fans are experiencing?
Here's a very simple solution: make it so this fool's job is no longer to be the coach. Then he can go back to picking middle school gym class dodge ball teams in Alabama.
Good grief. Get this man out of Knoxville and away from this program.