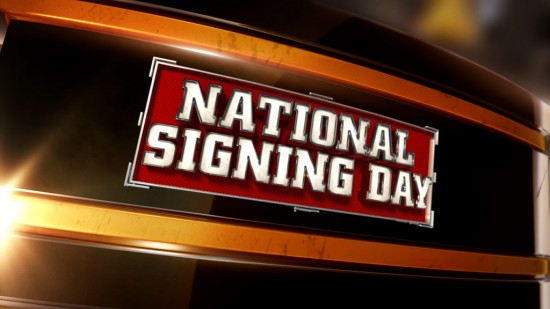 It's time.
The day recruiting junkies circle on their calendar every year—the first Wednesday in February—has finally arrived.
It's a sacred day, really. Many take the day off of work, some via a planned vacation day and others take a last-minute sick day. We all sit in front of our computers and follow along closely as the 2014 recruiting class is cemented after months of hard work.
This highly-touted group of young men, who pledged their verbal commitments to Butch Jones, will make it official today and cement their future in orange and white.
Tennessee has 32 commits, including 14 early enrollees who are already in school. Today, we will be watching the final 18 (or so) who are expected to sign their letters of intent with the Vols.
I mentioned 18 commits. You'll notice a couple of guys are no longer included in that list.
Jerome Dews will attend prep school at Atlanta Sports Academy in the fall and hopes to join the Vols in January of 2015.
Orlando Brown reportedly has academic issues in the classroom that he was unable to overcome and is not expected to sign with Tennessee today.
The only real wildcard that we know of who you should keep an eye on today is Michael Sawyers of Ensworth High School in Nashville. The 4-star defensive tackle and former Vandy commit is expected to choose between Tennessee and Ole Miss. His announcement is scheduled for 11:15 a.m. Eastern.
The maximum number of commits in this class has been a source of much speculation and discussion, but 32 seems to be the magic number. It's unclear how Sawyers would fit into that picture, but 4-star defensive tackles are a highly treasured species and Butch Jones would obviously find a spot for him should he choose Tennessee.
Another defensive lineman, Cory Thomas, is one to keep an eye on today. He's currently committed to the Vols, but many believe he may be considering Clemson. A signing-day ceremony is scheduled today for 11 a.m. at McAdory High School in Alabama, and we should know something soon thereafter.
As we do every year, we will monitor all of the commits as they come in and update them in our National Signing Day Live Tracker thread. There, you can also check the list of commits as well as the scheduled announcement times. Also included in that thread are instructions on how to sign up for VolNation text alerts where you can receive notification as the commitments are confirmed.
For more detailed discussion, you call follow the individual recruit threads in the Tennessee Vols Recruiting Forum.
Happy Signing Day!