This past Saturday Tennessee returned home to face the Golden Eagles of Tennessee Tech for its first game since the trip to the Bahamas. The Vols traded sunny and 70 for the cold and dreary rain of Tennessee winter.
Early in the game, TTU displayed some hot shooting despite the chilly climate. Tech hit 15-27 shots in the first half, including 8-11 (!) from behind the 3-point line. However, Tech's hot start tapered after halftime, going just 10-27 and 2-9 from three in the second half. Tennessee eventually pulled away to win by a comfortable 84-63 margin.
The story again, as it's been of late, was Tennessee's offensive rebounding and defense. The former was strong and the latter was not.
THE GOOD — With big-bodied Jeronne Maymon and Jarnell Stokes banging around inside the paint, you'd expect the Vols to win the battle on the boards regularly. Thus far this season, that's held true as UT has pulled down 45.3 percent of the offense rebounds available to them, a mark only surpassed by Kentucky's 46.1 percent.
Saturday was no exception; Stokes nabbed 13 (six offensive) boards total, notching his fourth-straight double-double, Maymon grabbed seven boards, with four being offensive, despite playing just 22 minutes (freshman AJ Davis started in Maymon's place due to tardiness, according to coach Cuonzo Martin).
This marked the sixth time in eight games with four offensive rebounds or more for Stokes. He's averaging slightly more than 4 offensive rebounds per game and pulling down nearly 16 percent of the rebounds available to him off the offensive glass. That percentage is good enough for top-50 in the country and top-ten in the SEC. (For perspective, the country's leader in offensive RB percentage Boise St.'s Ryan Watkins sits at 23.7, Kentucky's Julius Randle sits at 16.6 and Maymon sit at 16.1.)
Jarnell's biggest asset in rebounding the ball is his strength. At 6-8, 260 he's a damn behemoth in the college game. He's very broad and very strong, but not blow-your mind athletic nor tall for his position, Hindered by his height and mild athleticism, he has to do other things well to compensate. Basically, the importance of anticipation and positioning become exaggerated. Anticipate where the ball is going and get there. If somebody's already there, move 'em out the way. JARNELL SMASH.
Let's see how he fared on a few possessions from Saturday's game.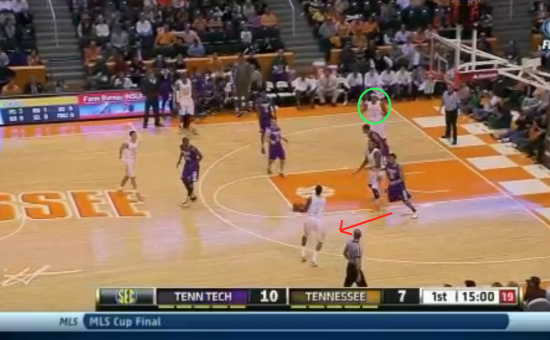 Here the ball comes to Josh Richardson on the perimeter. Stokes recognizes that Richardson has an open look and begins to position himself for the possible rebound.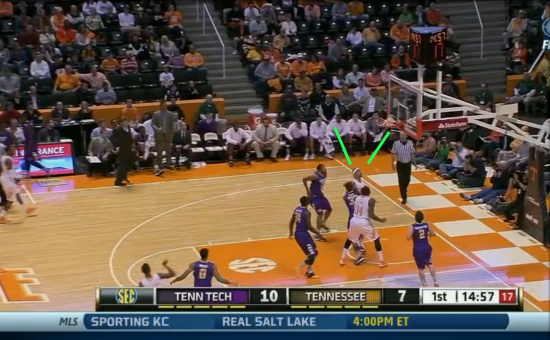 By the time the ball swishes through the net, Stokes has planted himself in the lane on the far side of the goal right on top of the restricted area semicircle. In this position, he owns all that airspace between the green lines. This shot went in, but had it missed Stokes was right there to clean it up.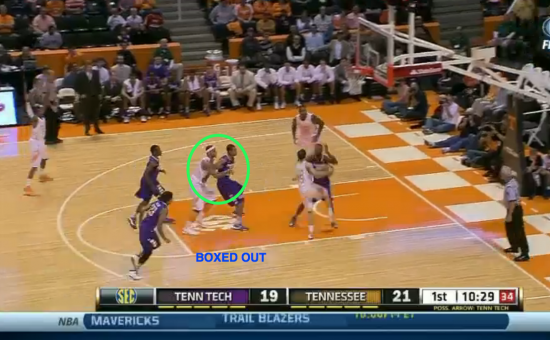 In this shot we see Darius Thompson driving the lane for a layup. It looks like Stokes' man has him all hemmed up on top of the SEC logo in the paint.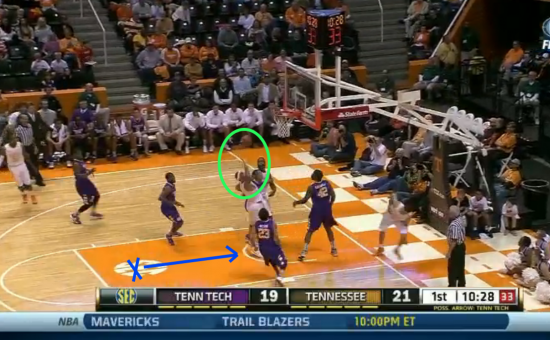 The shot goes awry, and in just one second, Stokes has bullied his man from the SEC logo down to inside the restricted area. He wasn't in great early position this time, but he used his strength to get where he needed when it mattered.

Here again we see the ball hasn't been loosed yet, but Stokes is using those tree trunks of legs to set a strong base. He's on the far side again, as the majority of the corner 3-point shots are missed long.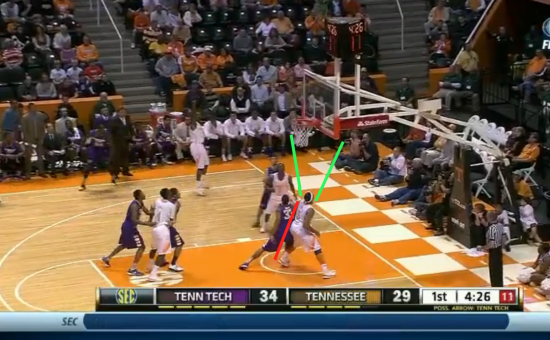 Check out 33, absolutely leaning on Stokes — all that leverage, but Stokes still isn't giving up his position. He owns that air between the green lines and snags another board.
Great use of his strength, good anticipation, and a nice job getting in position early for Jarnell. 'Strong' performance, big fella.
THE BAD — While Tennessee's offensive rebounding has been consistently good all season, the defense also has been consistent. But not a good consistent. Like bad consistent. Cuonzo is a defensive-minded coach, and I'm fine with that, as long as the team, well, plays good defense. Thus far Tennessee's allowed opponents to shoot nearly 48 percent on two-point shots (133rd in the country) and 36.4 percent from 3-point land (247th in the country).
"Poor defense," Martin said, of the team's performance in the first half. "They like to shoot a lot of 3's. I thought we played on our heels early in the game. It was nothing but poor defense."
Yeah huh. Poor defense for sure. TTU came in shooting around 30 percent from behind the arc for the season, so perhaps it was an aberration. Maybe that 80 percent from 3 was just an outlier. But Tennessee's season-long stats and several open looks for TTU suggest this may be a bigger problem than we'd like to think.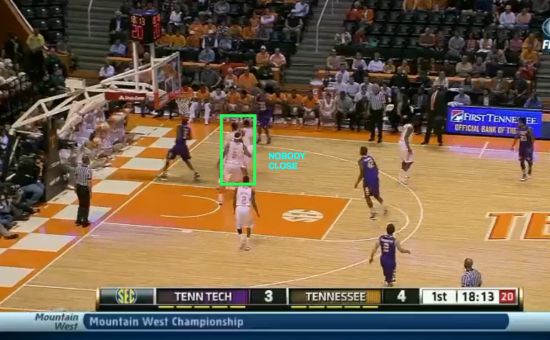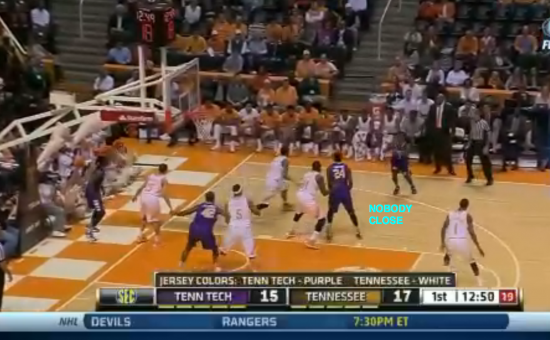 On both occasions here, defenders came to help on a driving man, but nobody got back to the shooters in time. There's just way too much space between the shooters and the nearest defenders. On defense you have to make you man uncomfortable. Get up in 'em, as they say.
I only picked these two because the bad defense was so blatantly obvious. Leaving guys this wide-open is going to cost you, regardless of the whom the opponent might be. But, the Vols got a 20-point win and harping on the bad defense too much is picking nits. For now let's just hope these sort of defensive miscues get corrected. It's worth noting that this team likes to start slow and that could have been part of the issue against TTU.
The Vols travel to Kansas on Saturday to take on the undefeated Wichita State Shockers in what should be a very good game. UT will need to cut down on the wide-open shots (duh) and another big game from Stokes if it hopes to beat a pull out a win.