Since this was the last game of the year, I wanted to start off this week's GIVE HIM SIX with a couple shout-outs. The overall tone of this blog has maybe been a little negative, but today, we're staying positive. Like, just be cool, man.
The first one has to go collectively to the all seniors. Despite it all, y'all made it. Congratulations and good-game butt slaps for everybody. Except 6-8, 350-pound Daniel McCullers. Just a fist bump for him. No butt slap.
Seriously though, these cats have been through hell and made it out on the other side. Life is full of hiccups and things not going according to your plan. Sometimes you're the hammer and sometimes you're the nail, I guess. VFLs every single damn one of them.
Shout out to Palardy for being the MVP of Team 117. If you follow me on twitter (AHEM @_nicosuave_) you know I've been rah-rah-ing Palardy all year. Dude went from goat to glory, from afterthought to all-conference, from "where the hell is Broadus," to "how the hell are we going to replace THIS guy?"
Interesting to note, according to the wonderful folks at UTSPORTS.com, he was one of seven FBS players to handle kickoff, punting and placekicking duties. My man did it all.
The St. Thomas Aquinas product went 14-17 kicking FGs on the year, including the game-winner against South Carolina, and he finished his career ranked third in UT history for career FG percentage at 74.
Palardy averaged nearly 44 yards per punt and landed 52 percent (33/63) of his punts inside the 20, which leads the FBS. Further, of those 33 punts inside the 20, 14 were downed inside the ten-yard line, good for the second-highest total in the FBS
He had 19 punts go for 50 yards or better, and he graduates with a 42.6-yard career punting average, ranking second all-time behind Jerry Colquitt. And as of now, he's a semifinalist for the Ray Guy Award, which is given to annually to the country's best punter.
Good on ya, Mike. Now go get that money, young man.
Shout out to Corey Miller. 4.5 sacks against Kentucky broke Tennessee's single game sack record that was previously set in 1983 by the Minister of Defense himself, the great Reggie White. Besides the 4.5 sacks, Miller finished the game and his career at Tennessee with seven total tackles and a forced fumble. Saved the best for last, indeed.
Oh yeah, on the season, Miller accounted for 36 percent of the Vols' QB sacks (6.5/18). Yikes. Uhh, moving on…
Shout out to Ja'Wuan James. He started every game of the last four seasons at RT, tallying 49 consecutive since the opener against UT Martin in 2010. For most of those four years, James anchored one of the better pass-blocking units in the country. After allowing 41 sacks in 2010 (thanks in part to Matt 'hold the ball' Simms), Tennessee allowed just 41 sacks over the next three years combined (18 in 2011, 8 in 2012, 15 in 2013).
Shout out to Rajion Neal for hitting the 1,000-yard mark this season. That stat is somewhat antiquated for judging backs, but it's a milestone still. VFL Tauren Poole was the last Vol to do it in 2010. His total year-ending total 1,124 yards is good for fifth in the SEC — finishing ahead of notables Arkansas' Alex Collins and Missouri's Henry Josey — while his 12 touchdowns ranks fourth.
Neal's shout out provides an apt segue to our next segment. Before we go further, when I titled this blog GIVE HIM SIX, the idea was to diagram a Tennessee scoring play and highlight who and what made the play successful. Well, as usual my timing was impeccable. The Vols went on their four-game skid — not giving me much to work with from the "analyze the offense in a positive light" aspect. But against Kentucky, UT put together an offensive performance worth delving into. So let's get to it.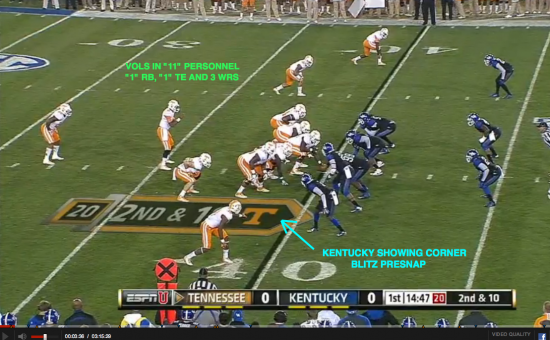 Former Georgia 'Dawg OL Matt Stinchcomb stole my thunder a bit during the telecast, but it's okay. Here's the second play of the game for UT, the 60-yard touchdown run from Rajion Neal.
Vols are in their "11" personnel, which is typically denoted by the number of RBs on the field next to the number of TEs on the field. One TE and one RB  = 11 personnel. Kentucky is showing a corner blitz — keep that in mind.
A couple keys here: LG Alex Bullard's block on the nose guard #97. Downs will come across the formation to seal the backside while RG #72 and RT #70, Fulton and James, double team #99.
As you can see, the combination of Bullard's block and the RG & RT's double team on #99 created quite the seam for Neal to hit. Love this block from Bullard. Literally man handles his guy out of the hole. Just a great damn block. #64 James Stone gets to the second level and keeps the LB out of the lane. As you can also see, there's just one guy left with a legitimate shot at Neal, the safety lurking at the top-right of your screen.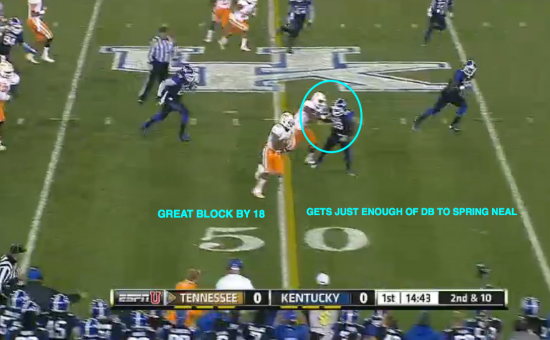 Remember the CB that Kentucky sent on the blitz?  Well that freed up Jason Croom to advance down the field in his blocking. He gets to the safety, but doesn't flatten him. He gets *just* enough of the guy to allow Neal to pass by unabated. It may not look like much but it's another great damn block. Good execution by the OL, good vision by Neal to see the crease, then Croom makes a winning play to spring Neal for six points.
As the venerable John Ward might say: Neal to the 50, 45 40, 35 30, 25 20, 15 10 5 GIVE HIM SIX Touchdown Tennessee!
That's going to just about do it for this week, ladies and gents. But before I go, a tip-of-the-cap to Freak for giving me the opportunity, and the vehicle by which to share my writing. And major thanks to anybody that reads this. I really and truly appreciate it.
As always, I'd love to hear your thoughts. Please share in the comments below or come join the fray in the forum section of Volnation.
Until next time, GIVE HIM SIX!