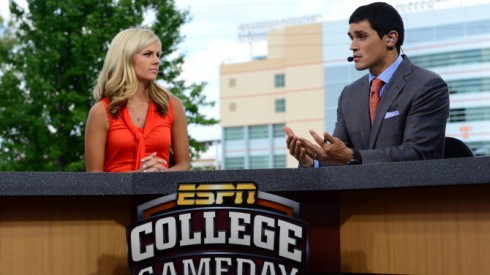 BRISTOL, Conn. — Led by Knoxville, three Tennessee cities are ranked among the top 10 in terms of highest-metered markets watching ESPN's college football. Knoxville ranks third (4.6), Nashville is ninth (3.3) and Memphis (3.1).
The home market of the Vols jumped from 10th to third this season. Knoxville had the largest jump from 2011, as the rating increased 53 percent from 4.6 to 3.0.
Here is a full look at ESPN's information regarding college football rankings.
ESPN Press Release:
http://espnmediazone.com/us/press-releases/2012/12/saturday-night-football-most-viewed-college-football-series-on-tv/
Top 10 Markets for 2012
1. Birmingham, Ala. – 8.9
2. Greenville, S.C. – 4.7
3. Knoxville, Tenn. – 4.6
4. New Orleans, La. – 3.7
5T. Jacksonville, Fla. – 3.6
5T. Columbus, Ohio – 3.6
7. Atlanta, Ga. – 3.5
8. Oklahoma City, Okla. – 3.4
9. Nashville, Tenn. – 3.3
10T. Memphis, Tenn. – 3.1
10T. Austin, Texas – 3.1

The Vols were a fixture on national television in 2012 and did their part to make the TV ratings meter jump. UT played in six games on the ESPN family of networks.
The Tennessee-Florida football game was the most-watched college football game for the week of Sept. 15. ESPN's broadcast led all games with 5,076,000 total viewers for Florida's 37-20 victory over the Vols. The game garnered a rating of 30.1 in Knoxville, meaning nearly one in every three homes in the area were tuned into the Vols football game.
On Aug. 31, ESPNU averaged 1,491,000 viewers (based on a 1.3 rating and 945,000 households) for its telecast of Tennessee beating NC State, 35-21, making it the network's most-viewed college football game ever.
ESPN's prime time telecast of Alabama at Tennessee was the second most-viewed night game on Oct. 20. The game averaged 4,223,000 viewers on a 2.5 US rating (2.9 coverage rating).
Tennessee's game at South Carolina on Oct. 27 aired on ESPN, earning a 3.0 rating which was the third-highest rated college football game that day and the highest-rated game in the Noon window.
Additionally, the Tennessee at Georgia game on CBS on Sept. 29 recorded a national rating of 2.9 with a 7 share. The viewing audience was 4.682 million which marked the second-most viewed college football game of the weekend behind Ohio State-Michigan State on ABC. In Knoxville, the Vols-Georgia game drew a 26.8 rating and a 47 share, meaning 47 percent of televisions in the market were tuned in to the game.