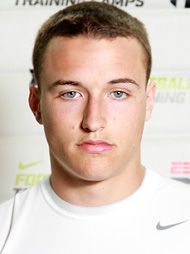 When Derek Dooley was hired as the University of Tennessee football coach, he wanted to put up a fence around the state and keep the most talented football players right at home.
He and the Volunteer coaching staff did just that when Knoxville Central High School standout Cody Blanc became the Volunteers' ninth commitment of the 2012 class.
"Growing up I've always been a big Tennessee fan," Blanc said.
Blanc a 6-foot-1, 190 pound safety, first made a name for himself after attending a camp at Virginia Tech. Known for his speed, Blanc impressed coaches after posting 4.4 40-yard dash.
Virginia Tech would be the first to offer Blanc, but after camps at Vanderbilt and Tennessee, Blanc finally received the offer he was looking for.
"They (Tennessee) really didn't know much about me, but I went to their first camp they had in June and I did better than they thought I would," Blanc said. Then they called me back, they had a receiver coming in named Conner Crane (committed to Stanford), and we did 1-on-1 drills and then they ask me to come back one more time for my final evaluation at their camp in July and that's when they offered."
"It was fantastic," Blanc said. I was waiting on it, so it really felt good though!"
Offensive coordinator Jim Chaney was Blanc's primary recruiter, but Blanc feels very comfortable with the whole staff including coach Dooley.
"When they first started recruiting me it was Coach Chaney, because he recruits Knoxville." Blanc said. "But since I will most likely will play safety, now it's more coach Joseph the defensive backs coach. "I'm comfortable with both of them, and I love coach Dooley," said Blanc. "George (Bullock, West High School kicker committed to Tennessee) and I got a chance to talk to him at the Montana game, and he ask us how we were doing, he asked us how our season was going, he's just a great guy."
The Volunteers not only get a good football player, but a person with great character an attribute Coach Dooley covets.
"UT has recruited a high character guy, a guy who's a leader on and off the field and in the classroom," said Central High School coach Joe Hassell. "A kid that you're never going to have to worry about doing the right thing, he's going to come to practice every day, work hard and give you everything he's got."
"I think he projects as a Division-1 caliber safety, he's got that type of build. He's extremely coachable; he's a kid who wants to please. He's always inquisitive, asking how can he get better and pays a lot of attention to detail. We always knew he was a special talent, when a player of his caliber walks on the field you know their special."
ESPN SCOUTING REPORT
Updated 07/22/2011
This is a very interesting guy that is similar to Notre dame safety Harrison Smith who is ironically from the Knoxville area. Blanc is an athletic running back/wide receiver hybrid that has a blue collar, overachiever feel to him and surprising straight-line speed. He is tall and gangly, but with a sturdy build that may lend to him playing as a wide receiver or safety. Lacks a powerbase for a major level RB, built more like a WR. A north-south running back who is quick to find the hole or cutback and get upfield. Displays some surprising wiggle and stop/start capabilities if confronted in the backfield with penetration. Shows nice initial burst and can accelerate–shows very good top-end speed when he breaks free into the second level. More of a threat when he can stretch it outside and get in space. Shows the speed to change gears and pull away with his stride. Shows good hands out of the backfield and with polish as a route runner we see potential at wide receiver. To remain at RB we feel he will need to develop more bulk, power and improve running tilt to remain a productive one-cut and go slasher. With Blanc you don't have an elite athlete or a guy that wows you, but you respect him and like his toughness, versatility and physical development properties.
Discuss Cody Blanc in our Vols Football Recruiting Forum.