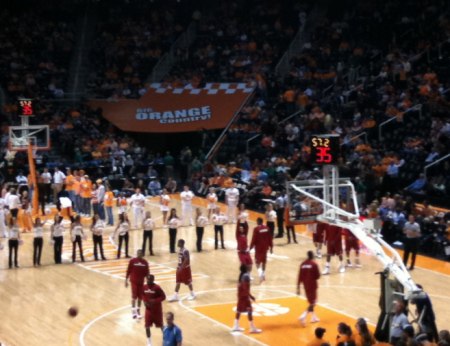 On Wednesday night, No. 16 Tennessee (22-7, 10-4 SEC) concluded its home season with a gutty 80-73 conference win over the Arkansas Razorbacks (14-16, 7-8) at Thompson-Boling Arena.
With the victory, Bruce Pearl's Vols become the only Southeastern Conference team with double-digit league wins in each of the past five seasons.
But Pearl, who typically praises his team's performance after a win, wasn't pleased.
"You are a lot happier than I am Bob," Pearl told Bob Kessling after the game. "I can tell you that right now."
Tennessee has just one regular season game remaining until tournament play begins. As the calendar turns to March, Pearl believes his team should be playing its best basketball of the season.
"I think partly because my expectations for March are different," Pearl said. "And I'm not going to apologize for having different expectations. I just didn't think that we were offensively sharp."
"There's not one guy in the locker room at the end of the game that was exhausted. Not one guy was done. I don't think we gave the energy that we needed to give."
Last season, Tennessee lost its opening round NCAA Tournament game to Oklahoma State. A loss undoubtedly still fresh in Bruce Pearl's memory.
"I don't want this thing to end, OK?" Pearl said. "I don't want it to end. But if we play like this, it's going to end soon and that's not what I'm interested in doing."
"It's March and that's just not going to get us a win come tournament time."
Tonight's game was very physical with tempers flaring at times. At one point a double technical foul was called on Kenny Hall and an Arkansas player. Tennessee held its ground, but once again didn't make as many trips to the foul line as did its opponent. Something Pearl attributes to a lack of toughness.
"We don't get to the foul line enough," Pearl said. "And it's about tough guys. It's about guys sucking it up, being tough, and getting fouled. I had to get a technical foul in there to get it going and that just should not be the case. That should not be what I have to do to get our guys to start to fight."
But foul shooting wasn't really the topic that was pressing on Bruce Pearl. On a night when his first big-time recruit, Wayne Chism, and the three other seniors played their last game at Thompson-Boling Arena, Pearl was unquestionably focused on the road that lies ahead.
"Do we want to get hot?" Pearl asked. "Do we want to get smoking right now and see if we cant start to click a little bit?"
"It's time," Pearl said passionately. "It's March."
"It's time and I don't want the season to end. I don't want it to end. I'm pleased with where we are right now but I want more. Coach wants more."