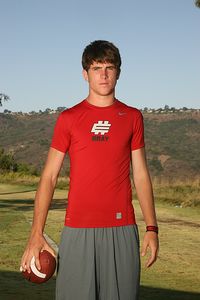 No matter who the coach in place was, the one thing that was an absolute need in the class of 2010, was a star quarterback that the staff could mold into their future franchise guy. While Coach Kiffin was still in Knoxville, he was able to sway California star quarterback Tyler Bray away from his commitment to San Diego State University. The number six ranked quarterback according to ESPN's rankings had originally committed to the Aztecs back in the summer, but once the University of Tennessee came calling, it was all but over.
Bray, who is ranked as a four-star recruit, has the making of a star and the fact that he is already on campus in Knoxville shows how serious he is about becoming the starting quarterback for the Vols, sooner rather than later. The 6-foot-6, 195 pound Bray had offers from many of the top schools on the west coast, and the Kingsburg, CA native thought he had settled on SDSU until the SEC got involved.
Bray has the size and the fundamentals to become an elite level quarterback at Tennessee. He reminds many of Erik Ainge, except for the fact that his upside is light years beyond what Ainge's ever was. Bray has a quick release, especially for a tall kid. He is skinny, but expected to fill out to be 230-240 pounds when all is said and done. Below is ESPN's take on Bray and what he has to offer the Vols program…
This guy could be one of the biggest sleepers this class has to offer and it may not be long until others start catching on. Bray reminds us of what stage Matt Leinart was at coming out of high school only right handed. He has prototypical height and his frame development upside is off the charts once he hits a college weight program. Looks like a Drew Bledsoe build. Is long and lanky, but not uncoordinated like most would be in his frame. As a result, the thing that stands out about Bray is his release– quick, compact, not elongated and whip-like which is what we see a lot of from tall skinny kids. The ball really comes out nicely. He possesses good, not elite arm strength but potential to see increased RPM's and vertical strength in time. Has an over-the-top delivery and can certainly see the entire field from within the pocket. Shows good command of the scheme, anticipates routes well and knows where receivers are going to be and throws well to a spot. Is a sound player in terms of footwork which is why his accuracy is very consistent. Drops from center and works from the shotgun– feet are quick and set up is firm and confident. He shows poise and confidence in the pocket and has flashed the ability to get rid of the ball on time on routes outside of the numbers. Shows juts enough power to squeeze the ball in, but throws a catchable pass and does a nice job of leading receivers as well. Is a deceptive athlete that throws well on the run and can also buy time. Isn't going to "wow" you with his legs or pull a rabbit out of a hat, but he shows subtle pocket movement while keeping his eyes downfield. Throws on the run to his right are very impressive, needs to find the same rhythm to his left. He is sure of himself and plays with a slight swagger even though he is somewhat of an unknown in this class. We like his overall productivity level and from an upside standpoint, his tools and physical measurables really make him attractive. He must develop bulk and strength, but that will come in time. Competitive nature and rhythm and timing in the passing game is impressive and we feel in a few years at the right program Bray could blossom into one of the finer players to come from the class.
Bray took an official visit to Tennessee on September 5th and witnessed the Vols massacre of Western Kentucky. He was able to see the offense click at a high level and got a glimpse of the type of atmosphere that Neyland Stadium can provide, even if it is against a Sun Belt Conference squad. Bray quickly decided to make a move after his visit and gave the news to the Tennessee staff that he would indeed be switching his commitment from San Diego State to the Vols. Once Bray was on board, the class became about filling the needs around him and that included some work on the offensive line.
Ja'Wuan James and Bray have become good friends as they are both already enrolled in school and look like they have the kind of relationship that a quarterback and his offensive linemen should have. With Bray on campus, look for him to compete for the starting job from the outset as he is ahead of most his age in terms of awareness and his knowledge of the game. Come fall camp, many expect Bray to be right in the mix and some flat out expect him to win the starting job from the get go.
From a relative unknown that was committed to a Mountain West Conference school, to the future franchise quarterback of a top flight SEC school is a huge jump to make, but if anyone has the brains and the brawn to do it, Tyler Bray is the guy.