By Scouts Inc.
ESPN.com
Even though the Under Armour All-America Game was somewhat lopsided, both teams had players who stood out. Here is a breakdown of the 15 best performers in the game, including both team MVPs.
Top performer
DL Dominique Easley (Staten Island, N.Y./Curtis) — committed to Florida
Every year in Orlando there seems to be one defensive lineman who stands out of from the pack due to his great explosiveness and dominant play. In 2008 it was DaQuan Bowers (Clemson), in 2009 it was Gary Brown (Florida) and this year it was Easley.
[+] Enlarge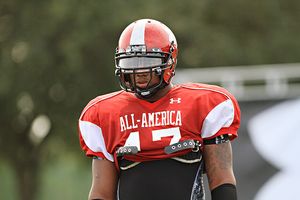 Davide De Pas Dominique Easley committed to Florida during the second quarter of the Under Armour Game.
The New York product proved to be nearly impossible to block when lined up in a shade with a combination of great snap anticipation and quickness. Easley consistently showed that he was unblockable, especially when the lights came on during the game. Right off the bat, during the first series he displayed his incredible explosiveness off the ball and continued to be a disruptive presence all day long. He did a real nice job when matched up one-on-one using both his quickness and hands. In addition, he found ways to continue to be a handful even when double teamed. Despite lacking ideal size for a defensive tackle, Easley worked off his quickness and would spin and split double teams.
Florida fans must be thrilled to add this Under Armour All-American, who earned Black Team MVP honors. Easley finished with four tackles, three tackles for loss, one sack, two hurries and one forced fumble.
Other standouts (in alphabetical order)


WR Mike Davis (Dallas/Skyline) — committed to Texas
Maybe one of the more underrated receivers coming into this event, Davis was nearly impossible for corners to cover one-on-one. He consistently created separation, showing great precision and burst out if his breaks as a route runner. His hands were very impressive plucking the ball away from his frame and tracking the deep ball. On Saturday, Davis caught three passes for 53 yards including a leaping 25-yard touchdown in the corner of the end zone.
---

S Demar Dorsey (Fort Lauderdale, Fla./Boyd Anderson) — committed to Florida
Dorsey proved to be a true center fielder in the three-deep coverage, showing excellent range and was able to help break up several take-offs down the sideline due to his quick break on the ball and speed in the open field. He also wasn't gun-shy in run support and closed quickly from the deep middle to make several tackles and assists. Dorsey displayed his excellent speed in avoiding tacklers as he made crucial yards after his interception Saturday. The future Gator also racked up three solo tackles and one forced fumble on the day.
---

S Jonathan Dowling (Bradenton, Fla./Southeast) — committed to Florida
Dowling may have proven to be the most impressive skilled player on the field Saturday. He intercepted two passes — returning one 56 yards for a touchdown — showing his soft and reliable hands necessary to play big-time football. His first interception was extremely impressive because it came on a short pass where he demonstrated incredible instincts and reactions snatching a pass with a lot of velocity on it. He also displayed a burst and excellent acceleration after each pick and obviously has a nose for the end zone.
---

RB Michael Dyer (Little Rock, Ark./Christian) — committed to Auburn
The stat sheet (10 rushing yards, two receptions for 27 yards) on Saturday might not show a great game but Dyer made several hard runs and took an improvised shovel pass for a long gainer showing great initial burst and strength breaking would-be tackles. During the week of practice he proved to be very durable and a back who could get the tough in-line yards when needed with his excellent balance and lower-body power or hurt defenses on the perimeter with his deceptive outside burst and lateral quicks. The Auburn commit is the definition of a five-star prospect that is ready to tote the rock immediately for the Tigers.
---

OT James Hurst (Plainfield, Ind./Plainfield) — committed to North Carolina
We like Hurst's ability to control edge rushers. He displayed good feet with the ability to come back inside and handle the inside rush with good upper-body strength. There was a point in the game where he was brought inside to the guard position, specifically to deal with Easley and
Ashton Dorsey
(Tyler, Texas). This shows his versatility to play both tackle and guard.
---

OT Ja'Wuan James (Suwanee, Ga./North Gwinnett) — committed to Tennessee
Arguably the top offensive lineman in Orlando, the Tennessee commit has been a mountain to get around and dominated the competition. He showed good feet in pass protection, handled the outside rush off the edge and has the ability to come back inside versus change-of-direction moves. James continually showed the quick feet and agility that should make him a great pass protector at the next level. We also like his ability to get on linebackers, which he showed in the game, and can sustain in space.
---

DT Louis Nix (Jacksonville, Fla./Raines) — committed to Notre Dame
Nix, once again showed he can anchor inside versus the run, but we were also impressed with his initial quickness and change of direction versus the inside run. He proved to be a steady pass-rusher, that could push the pile and split the double teams at times. Nix registered two solo tackles and one tackle for loss on Saturday.
---

WR Justin Hunter (Virginia Beach, Va./Ocean Lakes) — committed to LSU
Hunter showed flashes of former Under Armour All-American A.J. Green (Georgia) throughout the week. His fluidity and overall athleticism for a taller receiver is rare and highly-coveted at the college level. His wide catching radius and ability to pluck contested balls away from smaller corners with outstanding hands and leaping skills should allow him to see early playing time in Baton Rouge, La.
---

S Alec Ogletree (Newnan, Ga./Newnan) — committed to Georgia
Ogletree, who made two solo tackles Saturday, was one of the more scheme-versatile defenders all week in Orlando. When he wasn't stepping down in the box to make physical plays in run support, he was getting off the deep hash over the top of routes showing great range and athleticism. He has monster size for a safety and could likely grow into an outside linebacker.
---

QB Chase Rettig (Sierra Madre, Calif./San Clemente) — committed to B.C.
Rettig was one of the more consistent quarterbacks all week. His ability to make all the college throws was most impressive. He flashed great zip and arm strength fitting the ball into the tight underneath windows. He also showed very accurate downfield arm strength. Rettig seemed to get into sequence from day one and really grasped the offense. He led all Under Armour quarterbacks in completions and passing yards Saturday.
---

WR Da'Rick Rogers (Calhoun, Ga./Calhoun) — committed to Georgia
Rogers' size-to-speed combination proved too difficult a matchup for even the top cornerbacks in the country during practice. He won most contested jump balls utilizing his great leaping skills, height, strength and athleticism. His hands and ability to come down with the difficult grab was very impressive.
---

DE Dakota Royer (Manheim, Pa./Manheim) — committed to Penn State
While not looking like a prototypical defensive end prospect, Royer may have been the best total football player in Orlando. He showed great initial burst off the ball, while displaying excellent hands and a good command of moves as a pass-rusher. He showed us in person what we saw on film — a good athlete with a great feel for the game, a matching motor and someone that finds a way to be productive. During the contest, Royer amassed four tackles, 1.5 sacks and one quarterback hurry.
---

OLB Michael Taylor (Atlanta/Westlake) — committed to Tennessee
Taylor, who was named White Team MVP, lived up to his reputation as an undersized playmaker on defense. He made multiple explosive tackles and seemed to be constantly around the football. Taylor finished the game with three stops, including one tackle for loss.
---

WR Darius White (Fort Worth, Texas/Dunbar) — committed to Texas
White showed his versatility as a receiver and return specialist. He saved his most impressive performance of the week for the game and proved by be a guy who comes to play when the lights are on. White was very impressive as a returner, showing the ability to make tacklers miss in the open field on his 35-yard punt return for a score. He found the end zone a second time on an 11-yard reception. The newest Texas commit is a skilled athlete who can run the 40-yard dash in 4.4 seconds and his speed showed in the game.